FINALLY! A fitness program that EVERYONE can do... and experience INCREDIBLE RESULTS.
Click here for sound
Click here to turn sound off
In each 5 minute routine, you'll do a couple of easy dance moves that work your whole body.
Rather than just following me exactly, I'll teach you how to make each movement perfect for your body, no matter what your fitness level, and no matter what limitations you have that day.
Every time you Groove with me, you can do as many of the short dance workouts as you want, but I'll never ask you do something that hurts because there's no reason to add pain or stress to your body.
Instead, you'll do exactly what feels right for you, and I promise you'll see incredible results.
Real women are discovering that Body Groove is the perfect workout to help them:
Melt off extra pounds
Build strength and endurance at any age
Increase flexibility and mobility
Here's what real women have to say about Body Groove: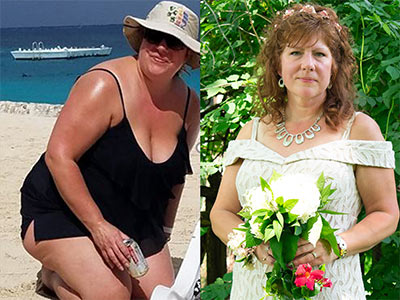 Jami F.
Lost 60 pounds*
I didn't go into this thinking I would have this sort of weight loss, where my children look at me and say "you're melting".
Brigetta J.
Lost 65 pounds*
You move your body in a very gentle, compassionate way. And lo and behold, I've lost 65 pounds since January.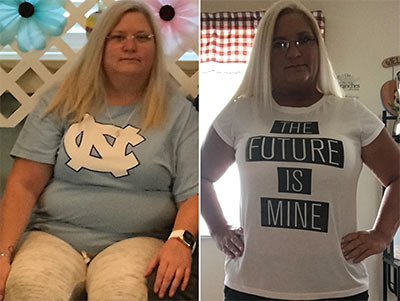 Tina K.
Lost 70 pounds*
The steps are very simple and easy to do. You don't feel tired or sore afterward. I love Body Groove!
* Body Groove helps with weight loss when used in combination with healthy eating. Results will vary depending on starting point, duration and intensity of exercise, and other factors. Always consult your physician before you start this or any exercise program.
Take a look at a short workout
Body Groove is SO different than regular exercise that it's kinda hard to explain exactly how it works.
So let me SHOW you instead...
Take a look at this short video...
As you can see, this workout has a couple of simple dance moves that will work your whole body.
Since we all have different bodies, with different energy and fitness levels, there's no "one way" to do the workout. That's why I teach you how to make it perfect for your body.
And check out the people dancing with me...they're all different shapes, sizes, and ages, with different levels of fitness, energy, and mobility.
And they all did that workout in the way that was exactly right for them.
That's why Body Groove is helping people get into the best shape of their lives, even when "regular" exercise seemed difficult and painful.
And the best part is you can start TODAY, no matter what your fitness level is right now.
Thousands of 5 star reviews for our easy-to-use iOS, Android, AppleTV, FireTV and Roku apps
"It feels wonderful to be able to get back in shape, have fun through expressive movement and dance, and increase my energy for the rest of the day. Highly recommend this app and program."
- App store review
"I love to dance but hate to exercise. I thought this looked like something I could do, and I'm hooked. My body knows I am exercising because my muscles can feel it, but my heart and brain are having so much fun grooving that I just want to keep dancing!!"
- App store review
"What a difference Body Groove has made in my life! The routines are SO FUN! You can't get it wrong! After 2 weeks, I felt more fluid, stronger, sure-footed and even happier in my everyday movement."
- App store review