Wanna know the secret to staying YOUTHFUL at ANY age?
HINT... It involves a little dancing and a ton of fun!
JUST WATCH!
---
Hi, I'm Misty Tripoli, the creator of Body Groove.
Today, I'm so proud to introduce you to my brand new DVD series... YOUNG at HEART.
YOUNG at HEART was inspired by two of my very best friends, Roger and Yvonne Puckett.
Roger and Yvonne, from New York City, have been dancing their entire lives... and they'll tell you it's been the secret to their youthfulness.
Both in their 80's, Roger and Yvonne are the epitome of youthful, vibrant health.
As you'll see, YOUNG at HEART employs the same Body Groove philosophy of moving your body in a fun, enjoyable, stress-free and relaxing way that you've come to love.
It's designed especially for people who need a kinder, gentler workout and it's something that I know you'll absolutely love.
Just check out a couple of the routines from my brand new YOUNG at HEART COLLECTION…
My BODY GROOVE YOUNG at HEART COLLECTION includes...
4 COMPLETE YOUNG at HEART WORKOUTS
Each YOUNG at HEART workout series consists of five, 4-5 minute dance routines, and each workout is about 25 mins long.
Workout Series #1 - $19 value
(5 routines - 23 mins)
Young in Spirit, Want You Back, Unicorns & Rainbows, Soulsa, Stillness
Workout Series #2 - $19 value
(5 routines - 28 mins)
Better Things, Anything, Deepened, Tangoed, Wave
Workout Series #3 - $19 value
(5 routines - 22 mins)
Heist, Say You Will, How'd You Do, Gardenia, Loud Whisper
Workout Series #4 - $19 value
(5 routines - 26 mins)
Swing Boogie, Brand New Day, Mamma Dance, Upstate, Volition
1 FREE BONUS
YOUNG at HEART WORKOUT
Free Bonus Workout - $19 value
"Soft" - Before you get your groove on, you can use this beautiful, flowing dance track to improve flexibility and balance. It's also a great cool-down after your workout!
Your order today comes with FREE Worldwide Express Shipping direct from our studio in California (a $9.99 value), so you'll have your DVDs in just a few days (international orders may take slightly longer).
I know you're excited to start dancing, so I'm going to include streaming video access to all the Young At Heart workouts so you can get going right away (that's a $29 value).
You'll be able to access the videos on your computer, smartphone or tablet, or on your TV with a connected AppleTV or Chromecast device (most smart TVs can play the videos too).
So get ready to start dancing because you're just a few minutes away from your first Young At Heart workout!!
And you'll get my personal guarantee
Try my Body Groove Young At Heart Collection for 60 days completely risk free!
I'm 100% convinced that once you experience how different Body Groove YOUNG at HEART is...
And see for yourself that the best path to vibrant health is moving your body in your own unique way...
You'll never want to go back to traditional follow-the-leader style exercise again!
I'm so sure that you're going to LOVE Body Groove Young At Heart that I'll guarantee your satisfaction. Try it for 60 days, and if for any reason you decide that it's not right for you, simply send back the DVD for a full refund.
With a promise like that, you have nothing to lose!
Here's everything you're going to get with your order today:
Even though I now travel the world teaching my revolutionary health and workout secrets, I wasn't always so fit and healthy…
In fact, for years I was always tired and frequently overweight… (Which is really ironic because at the time I was an elite fitness instructor at one of L.A.'s top gyms, teaching dozens of aerobic classes every week…)
I was so desperate to look a certain way that I actually was forcing myself to vomit after I ate…
It was a terrible thing to do to my body, but I felt so much pressure to be thin, and none of my regular exercise routines were helping…
But then one day it all changed…
I was at the gym when a musician friend of mine, Ben, walked into the studio. For whatever reason he had a set of bongo drums with him and he started to play them…
As Ben started to bang out a rhythm on the drums I just started to move and dance…
As I was dancing to this simple, but catchy beat, I started to remember how good it felt to just move my body…
Not because I had to, but because I wanted to...
It was so much fun…
And that's when it hit me...
The secret to getting a healthy body is listening to your body
The secret to getting a healthy body is listening to your body
See, when you listen to your body, you will learn to respect your body…
As I moved my body to the beat of these drums, I realized that for once, I wasn't mindlessly moving doing pushups, burpees, jumping jacks…
I was listening to my body and simply dancing and to moving the way it wanted to move… in a pain free, natural way…
And I was feeling awesome doing it…
And that's how my Body Groove series was born…
The moment I stopped following traditional workouts and started allowing my body to move in its own way, I started to feel awesome…
My stress levels came down…
My eating disorder vanished…
And the more I danced, the faster my body melted away the unhealthy fat that had been bothering me for years…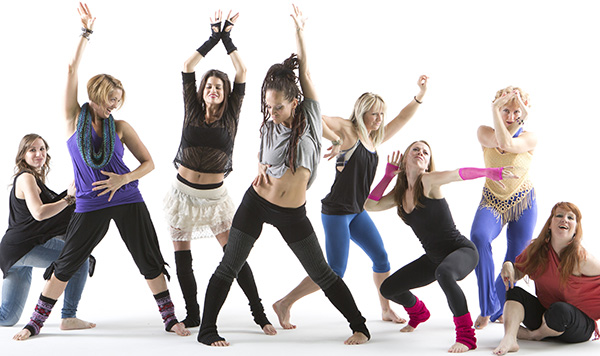 Now… years later, I've taken my Body Groove method to working out around the world… and it has literally changed the lives of thousands of people…
But I've also seen…a lot of weird looks from people who just don't understand what we're doing!
And that's ok. Many people prefer to do highly regimented workout routines that require you to carefully mimic the exact movements of an instructor. If that's your style, then Body Groove probably isn't for you…
My Dance-Inspired workouts are so totally unique, fun and effective… you'll never want to do a 'regular' workout again.
My Dance-Inspired workouts are so totally unique, fun and effective… you'll never want to do a 'regular' workout again.
My Body Groove series appeals to a different kind of person – the person who prizes their independence, their true worth, and who doesn't want to mindlessly follow a choreographed workout…
So join me… and I promise that you'll never look at exercise the same way again!
Listen to what Sparkpeople.com had to say when they awarded Body Groove the "Stuff We Love" review
It's the most innovative workout I have ever seen. Ever. I don't use those words lightly, and I've never used them before today.
Misty is so encouraging and approachable throughout, and her style of cueing is about listening to yourself: doing what feels right for you that day, changing that the next day, and allowing for a variety day after day.
I think these workouts (the DVD includes five programmed segments varying from 24-39 minutes long, or you can program your own workout using individual segments that are 5-10 minutes each) are perfect for exercisers of all intensity levels and mobility levels because it's so easy to do whatever works for you." –
Nicole Nichols, SparkPeople.com
Check out some more real reviews from Body Groove lovers who shared their experience on Facebook…

I just ordered the DVDs and did one session of the streaming video. I love it! Misty, you are a lady with FLAIR! Can't wait for my DVDs to arrive. I've never danced like this before and I thought I'd be self conscious even in front of my husband! But Misty's coaching made me feel completely comfortable. I thought about this for a while.....so happy with my purchase!
Just did my first workout with my new dvd and I really enjoyed it. Was fun and didn't seem like exercise, and so easy to do.
I'm a klutz...don't move fast and cant keep up with the fast babbling of a fast paced workout instructor.. I love the beat, the ease of moving, and the simpleness of body grove...I don't need equipment nor a lot of room...did I mention I have difficulty figuring out my left and right...I don't need to think about that either so I am never off step...yea me!
Barbara Fortune
June 29 •
Excellent service with my order. I absolutely love the workouts. I love that I'm not expected to be perfect from the get-go and that I don't feel guilty doing only what I can do. Too many other videos make you feel like a loser if you can't keep up or do some of the moves. It's nice to see someone recognize that we are all different and are at different levels in our fitness journey.

love the workout program, easy to do, motivating with great instruction and music
Jackie Greenfield Applegate
July 1 •
I love to dance and hate boring exercise!! This is so fun!! I never knew sweating could be fun!! hahaha!! Can't wait to get he dvd's in the mail !
Stacey Dunmyer Levin
June 20 •
I saw the ad for Body Groove on Facebook...thought, what the heck, I'll give it a try (Blogilates was killing me!). Love it, love it, love it! What a blast! It's a great workout (I definitely worked up a sweat!) and so much fun...I feel like a little kid, dancing around my living room, not a care in the world! I highly recommend this for anyone who hates exercise as much as I do!

Natalia Chukalina
June 22 •
I am new, just three weeks ago I've found vidéo on Facebook but It is something what I loved immediately : this way to move, this way to dance, this way to think, this way to live . And I love post from Misty, I read it before going to bed and... if I had a good day, it confirms me in what I have done, if the day was not so pleasant, it cheers me up and I think, tomorrow will be better. Thank you Misty !
Catherine Price
June 25 •
Such a fun way to get fit! Bought the online program, they delivered. Easy, affordable and fun!

Marlynn Joy Kern MacLeod
June 26 •
LOVE, LOVE, LOVE this!! Ordered online but was given instant access :) I have been dancing around my house for an hour now. Thank you!!!

Got my first groove on today. I loved it! There are not enough words to explain how I'm feeling. It didn't feel like a workout at all!! I'm so glad I took that step and got the videos. No regrets!!
Stephanie Cottrell
July 1 •
LOVE IT!! easy to relate to - great instructor and routines anyone can do.
Pat Scarlett Buynak
July 2 •
I bought the DVD and it is so much fun and a great workout.
These real people love Body Groove…
These real people love Body Groove…
And I know you will too!
And I know you will too!
The Body Groove workouts changed my life, and they've changed the lives of thousands of others all over the world…
I want you to be the next person who gets to experience the magic of Body Groove…
I want you to be the next person discovers how amazing it feels to move your body freely…
I want you to be the next person who is shocked to see how real, authentic movement is the secret to stronger muscles, healthier skin, and a high energy metabolism..
So Decide Today...GET YOUR GROOVE ON!
So Decide Today...GET YOUR GROOVE ON!
Health and wellness in life requires action, so act right now while it's fresh in your mind…
Remember, you have a full 60 days to put my YOUNG at HEART fitness series to work for you! Put it to the test and see how it works for you and your family. There's NO WAY you can lose…
Misty Tripoli
Creator of Body Groove
Here's everything you're going to get with your order today: