Order my DVDs, and I will GIFT you my book for FREE!
Stop losing sleep over the size of your butt'
With a copy of my book, plus Delicious Dance on DVD, you'll be on track to improving confidence and enhancing wellbeing.
These super fun AT HOME dance workouts will give you an instant mood boost, so you'll actually feel motivated to exercise!
"When I heard Diana's story, it made me so happy. An incredible woman who found her essence and is now loving life with her family. Watch below"
~ Misty Tripoli
Dana's Story
After the devastating loss of her mother, Dana struggled to care for her health and wellbeing. Everything hurt physically AND mentally and she eventually suffered a heart attack as a result.
Then one day she stumbled upon Body Groove and after losing 35 pounds through easy and safe dance workouts, she is happier and healthier than she has been in years!
(Remember, Body Groove helps with weight loss when used in combination with healthy eating, and your results will vary depending on starting point, intensity of exercise, and other factors. Always consult your physician before you start this or any exercise program, especially if you have been diagnosed with a medical condition.)
During our sale you'll get even more with your order…
Start your journey today with the
best-selling Body Groove Delicious Dance DVD Collection
FREE GIFT #1 - $15 Value
Misty Tripoli's: Stop Losing Sleep Over The Size Of Your Butt
5 simple truths to help you fall madly in love with yourself.
FREE GIFT #2 - $40 Value
Delicious Dance Stretch & Flex and Mind & Body DVDs
13 routines - 57 minutes
Unlike 'regular' exercise, where you just mindlessly follow an instructor, Body Groove lets you engage your mind in every workout.
That's $55 of gifts FOR FREE
Body Groove has changed the lives of thousands of women all over the world. But don't take our word for it, see what Body Groovers say…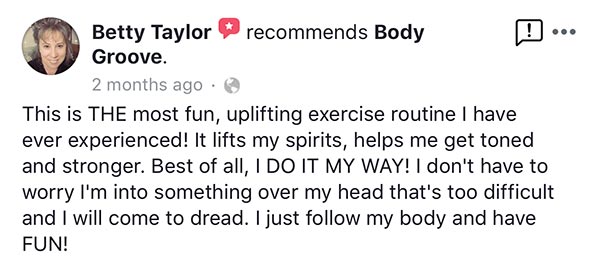 PLUS, there's no risk to try Body Groove because I GUARANTEE your results
3 complete Body Groove workouts $60 TOTAL VALUE
Over 19 dances to choose from at approx. 3-6 mins each. Each Body Groove Delicious Dance workout series consists of multiple dance from high energy to mellow grooves.
Workout Series 1 $20 Value
7 routines - 39 minutes
Workout Series 2 $20 Value
6 routines - 28 minutes
Workout Series 3 $20 Value
6 routines - 27 minutes
Here's some samples of our dances
The Love Bus (Featured in this collection)
Big Moves (Featured in this collection)
House of Dance (Featured in this collection)
Hurry, this offer is for a limited time only.
Order Summary
Delicious Dance Series Workout 1
Delicious Dance Series Workout 2
Delicious Dance Series Workout 3
FREE Misty Tripoli Book (limited time)
FREE Stretch and Flex Workout
FREE Mind and Body Workout
60 Day Money Back Guarantee
Buy with Confidence