I'm so excited to send you your FREE Body Groove DVD, which features 3 workouts from my best-selling Delicious Dance Collection. Since you've already paid for shipping, I'd like to include the rest of my Delicious Dance workouts (plus a whole bunch of bonus workouts) in your shipment today.
Here's what's included in this special today-only offer:
Delicious Dance Series 1-3
19 easy, fun and EFFECTIVE dance workout routines, each between 4 - 9 minutes in length. From high-energy dances like "The Love Bus" and "House of Dance", to mellow grooves like "Chiller's Lounge", there's so much variety in the collection!
Check out some of the dance workouts included in this collection:
Here's what people say about these workouts on Facebook: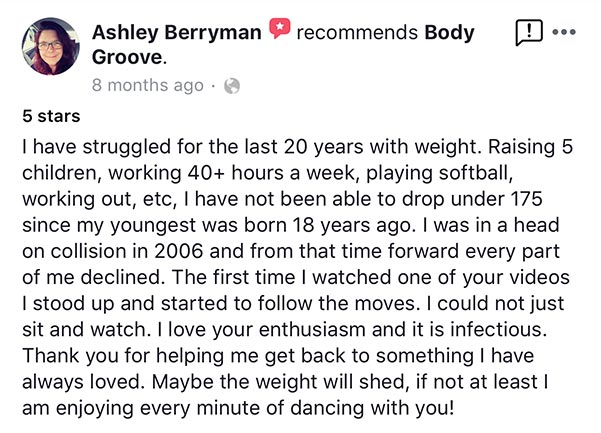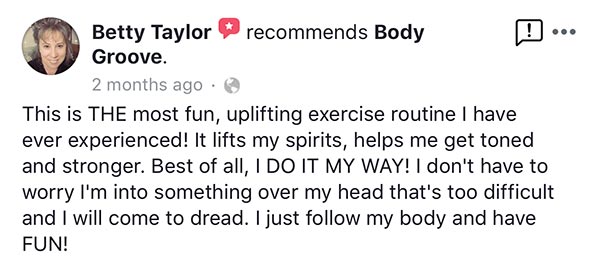 Plus you'll get even more when you add this to your order today…
Delicious Dance Stretch & Flex
As we age, it's ESSENTIAL that we keep our bodies flexible to decrease our risk of getting hurt, and to keep us mobile. That's why I created these 7 Stretch & Flex workouts. They're a $20 value, but I'm including them in your shipment as your free gift!
Delicious Dance Mind & Body
Unlike "regular" exercise, where you just mindlessly follow an instructor, Body Groove lets you engage your mind in every workout. That's what we highlight in this gentle yet challenging collection of dances. You can purchase it separately for $20, but I'll include it FREE with your order today.
My House Party Workout DVD
To create these workouts, I worked with some of my favorite music producers to create brand new music that will absolutely make you want to get up and dance.
Then, I invited a handful of friends over for a dance party - friends of all shapes and sizes who have one thing in common: they hate to "workout" but they love to dance!
Check out some of the dance workouts included in this collection:
Free Gift #4 - $9.99 value
Free shipping on this upgrade
By adding these DVDs to your shipment, you'll get a HUGE collection of Body Groove DVDs without paying one cent of additional shipping and handling.
That's going to save you up to $9.99!
There's no risk to add this to your order because I GUARANTEE you'll love it!
I know that as soon as you try the free Body Groove DVD that I'm sending you today, you're going to want to get the entire Delicious Dance collection and my House Party DVD, and you'll be really glad you took this opportunity to grab them both at this special price!
If, for any reason, you decide that Body Groove isn't right for you, you can send back the Delicious Dance DVDs within 60 days, and I'll immediately send you your money back, no questions asked.
There's absolutely no risk to add Delicious Dance to your order right now, so take advantage of this special pricing. You'll be glad you did!
Remember: The special pricing on this page is only available when you upgrade you order today. We're getting ready to ship your order, so you have to take action quickly! You can't get this deal anywhere else, so don't miss out!
Here's everything you get with your order today: