Exercise nearly killed me...
So I quit the fitness "industry" and created Body Groove
Hi, I'm Misty Tripoli, the creator of Body Groove.
Not too long ago, I was a top fitness trainer in L.A.
I was also crazy unhealhty.
I hated the fact that I was 30 pounds "overweight", so I forced myself to vomit after I ate.
I also pounded my body with 20 hours of exercise a week, hoping to beat it into submission.
All the while, people looked up to me because they thought I was a fitness "expert"...
Eventually, I realized that traditional exercise - and the thinking behind it - was completely wrong for me, and wrong for lots of people.
So I quit the fitness "industry", and focused on finding a way to get healthy.
I wanted something made for the way my body naturally moves.
Plus, I wanted something was fun, stress-free, and relaxing.
And that's what my Body Groove workouts are all about.
Take a peek at The Love Bus, from the Delicious Dance video collection...
You can see how much fun it is to exercise when you get to do it your own way...
Here's another one to try - House of Dance
If these videos look like fun to you, you're not alone.
Check out some of the thousands of five star reviews posted to Facebook by women who've purchased this collection...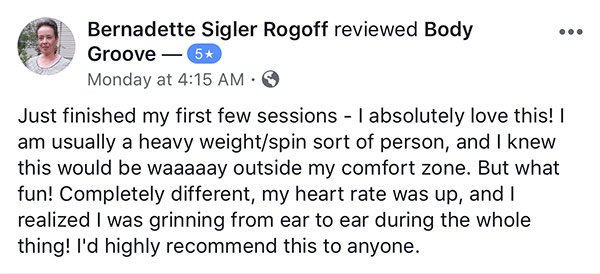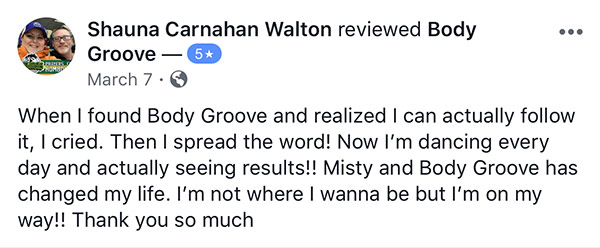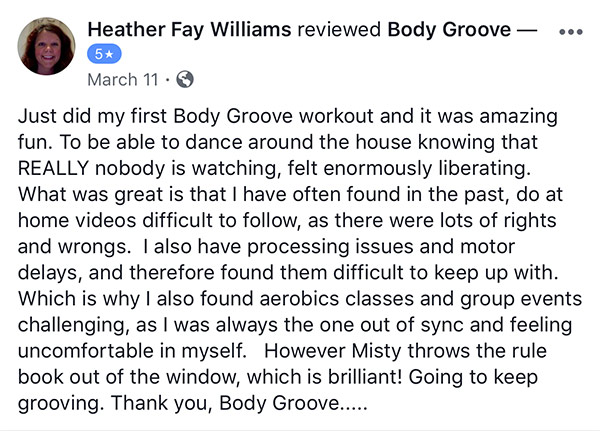 Swipe or click the arrows for more reviews
Here's what makes Body Groove so special
Traditional exercise is all about doing the same boring movements over and over and over again...
(Does this look like something you've tried before?)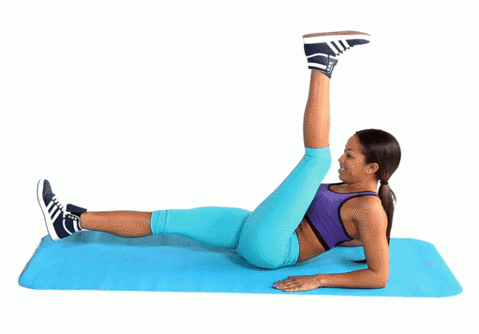 Exercise like this is boring - which is why it's so hard to stick with it long enough to see any benefits.
And even if you do punish your body with monotonous routines like that, it may not really do all that much for you.
You see, the problem with trying to move exactly like someone else is that you're a unique individual, with a body that's designed to move in your own unique way.
Which means... for you to get to the greatest benefit out of moving, you've got to do it in your own unique way… NOT someone else's way.
Now, look at how we can work those same muscles with Body Groove...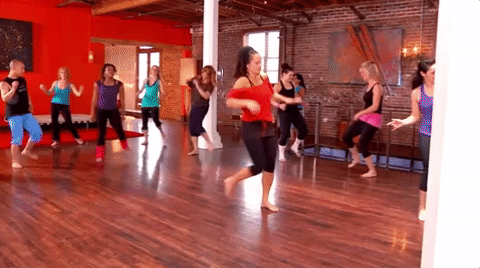 Look closely at that clip above. See how everyone is doing the move a little bit differently? Body Groove gives you a basic movement, then you make it your own based on how you're feeling, your fitness/energy level, your style - or whatever, it's up to you.
If you're ready to try Body Groove for yourself, you're in luck because I've got the perfect way for you to get started.
The Body Groove DVDs are a huge hit with over 250,000 sold.
And now, just like Netflix gives you instant access to hundreds of your favorite movies, my Tribe Membership gives you instant access to hundreds of amazing Body Groove routines - all streamed in HD right to your TV, computer, tablet or phone.
Just look at all the super-fun workouts you can stream!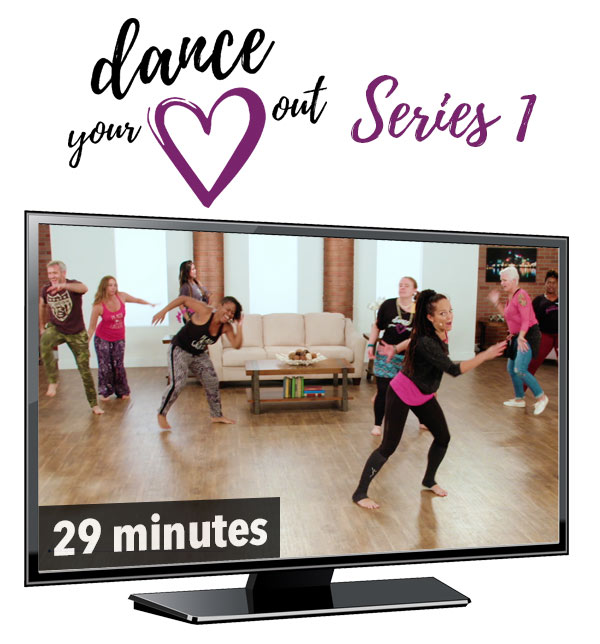 Swipe or click the arrows to see what's included
As soon as you become a member, your Body Groove videos available as instant streaming video (as fast and easy as Netflix) so you can get your Groove on right away.
And if you have a smart TV, or an AppleTV or Chromecast hooked up to your TV, you can get your Groove on in brilliant HD on your big screen.
(Don't worry, if tech stuff isn't your cup of tea, I have easy tutorials to get you setup in 60 seconds, and my support team is always a click away to help you.)
Here's what REAL Body Groove users on Facebook had to say about these super-fun workouts...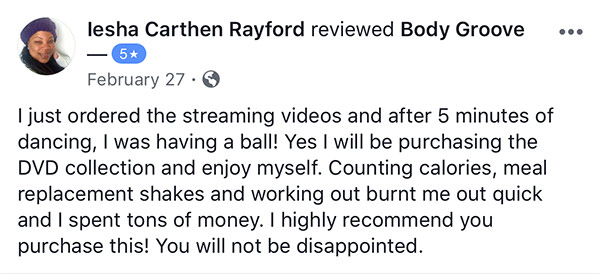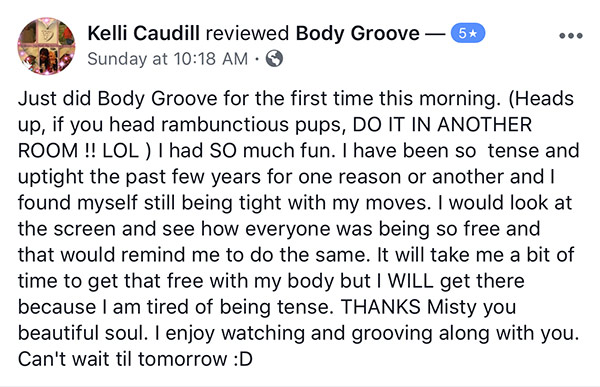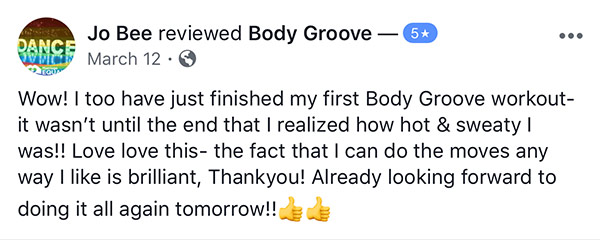 Swipe or click the arrows for more reviews
PLUS
members get even more
If you're like most women, you've tried - and failed - to make some changes to get healthier. But that's not your fault. The truth is that most "health" programs don't work because they are based on bad information.
Body Groove is so effective because it is rooted in real truth. And those truths have profound application in all areas of your life, not just in fitness.
In the Discover Your Groove online workshop, you and I will take an in-depth look at how the magic of Body Groove can extend into every area of your life.
I promise you that once you've done this workshop, you'll be equipped and motivated to take the right steps to live a deliciously fulfilling life!
This is the same workshop I lead on my retreats, but in a convenient format that allows you to get all the benefits without leaving the privacy of your own house.
Purchased separately, this workshop is $299. But I'll include it with your Tribe Membership so you can get the greatest results from Body Groove!
Wait...
Can dancing really be the
path to vibrant health?
If you're like me, you've tried EVERYTHING to get healthy.
You've tried every exercise routine and workout gadget. You've tried all the crash diets.
And after all that, it sounds kinda crazy to say that dancing like a kid could be the secret you've been looking for.
Well listen to what happened to Amanda when she gave Body Groove a try...
People like Amanda LOVE Body Groove, and I'm sure you will too.
I want YOU to be the next person who gets to experience the magic of Body Groove…
I want YOU to be the next person discovers how amazing it feels to move your body freely…
I want YOU to be the next person who is shocked to see how real, authentic movement is the secret to stronger muscles, healthier skin, and a high energy metabolism...
So decide today...
Get your Groove on!
Health and wellness in life requires action, so act right now while it's fresh in your mind…
Body Groove comes with my personal guarantee that you will love it.
Try it risk free for 60 days, and if you aren't IN LOVE with yourself after experiencing Body Groove, I'll send you your money back, no questions asked.
With that promise, there's no way you can lose, so give Body Groove a try RIGHT NOW!
I want you to give Tribe Membership a try, so I'll give you a very special deal...
Normally, Tribe Membership comes with a $39 initiation fee.
But today, I'm going to waive the initiation fee completly, and even give you a free 7 day trial of Tribe Membership.
You'll have access to all the exercise videos and the Discover Your Groove Workshop.
During your free trial, if you decide that Tribe Membership isn't for you, that's ok. I'll be glad that you gave it a try. You can cancel your membership and never pay a penny.
And if you decide to stay in the Tribe, you'll get hundreds of dollars worth of Body Groove videos for just $9 a month with no commitments.
Remember, here's everything you get with your membership:
Delicious Dance Video Collection
Dance Your Heart Out Video Collection
Mindful Movement Video Collection
Grooving Meditations Video Collection
Bootylicious Video Collection
Discover Your Groove Workshop
---
Total cost if purchased separately on DVD: $464
Your cost: $0 today, then $9 per month after your 7 day free trial
Frequently Asked Questions
How long is the free trial of Tribe Membership?
Your free trial lasts for 7 days.
What if I need to cancel my Tribe Membership?
No problem! You can cancel your membership at any time on BodyGroove.com or by contacting us at help@bodygroove.com.
How do I play the streaming videos?
Your streaming Body Groove videos will play on a smart TV, computer, tablet, or smartphone. If you have an Apple TV or a Chromecast device connected to your TV, you can stream the videos to those as well using a computer, tablet or smartphone. If you need technical help getting streaming video setup, my team is here to help.
I have physical limitations. Can I still do a Body Groove workout?
Body Groove allows for infinite modifications, so almost anyone can modify the workouts to match their fitness level. Just be sure to talk to your doctor before you start an exercise program to make sure it's safe for you.
What if I want DVDs instead of streaming video?
You can purchase the Body Groove video collections on DVD on our web site. Click here to learn more.