How to LOSE WEIGHT and get HEALTHY...
even if you're a

"couch potato" who hates to exercise

, and has tried everything else and failed.
99% of all workouts are the EXACT SAME.
And most women HATE THEM ALL! 😞
Have you given up on losing weight because you don't want to do painful, "bootcamp" style exercise?
Well, you're not alone…
Women everywhere are refusing to risk their well-being trying to keep up with workouts that are designed exclusively for the very fit… and that are simply NOT ENJOYABLE.
But here's the problem…
Unless you do some form of exercise… you risk not being able to enjoy vibrant health. And even worse… you'll lose the ability to perform everyday activities that you now take for granted.
Things like playing with your grandkids, enjoying a morning walk, or even climbing the stairs without huffing and puffing.
Luckily for you, there is now an alternative to regular exercise that doesn't require you to risk life and limb to participate… that's outrageously fun… and that gets incredible results.
Introducing...Body Groove!
Body Groove is the at-home, dance-based workout program that women all over the world are heralding as the most refreshing, doable, and effective workout they've ever done.
As you can see... Body Groove is different from every other exercise program out there.
It's dancing... but it's not follow-the-leader type of dancing that most of us can't keep up with.
Instead, with Body Groove, we show you a move or two and then teach you how to dance this move your own way… In a way that's perfect for your body.
With Body Groove...
THERE ARE OVER 600 WORKOUTS to choose from so you'll NEVER GET BORED and you'll stick with working out and be able to experience the long lasting effects of exercise for your mind and body.
YOU MOVE IN A WAY THAT'S BEST FOR YOUR BODY, which can prevent injury, promote creativity, and maximize the effectiveness of your workout.
YOU CAN'T GET IT WRONG because you don't follow the leader… So even if you have two left feet you'll still be able to get your groove on and get a great workout.
IT'S SO MUCH FUN, and when you're having fun you're more likely to keep doing something… which means YOU WILL achieve your goals and experience the health and wellness you deserve.
YOU FOCUS ON LOVING YOURSELF and your body right now… which means you'll feel sexier and more confident.
WE TAKE THE GUESSWORK OUT OF EXERCISE by giving you a fresh workout each day, which saves you time and energy so you can get more done throughout your day.
YOU CAN WATCH AT HOME on your computer, TV or other streaming device like Apple TV, Roku, Firestick, etc… So you'll never have to fight another crowded gym full of judgemental people.
Body Groove was Created by Health and Fitness Expert, Misty Tripoli.
Hi, I'm Misty Tripoli.
My BODY GROOVE routines are completely different from anything you've ever tried…
And that's the reason they're so good, and why so many people absolutely love them…
You see, when most people do regular exercise, they can't wait to be finished… so the pain can stop…
THAT'S CRAZY…!
Moving and exercising your body should never be a punishment…
Instead, it should be fun, enjoyable, stress-free and relaxing… something you can't wait to do, and you don't want to stop…
And that's what BODY GROOVE is all about…
It's a different way to work out that doesn't have you just mindlessly following an instructor's moves…
Instead, while I'll give you the basic choreography, it's up to you to make each movement your own by adding exactly the style that you want…
Whatever feels right to you…
And as you'll see, this will make all the difference…
Oh, and did I mention, it is INSANELY FUN!
Body Groove delivers incredible results!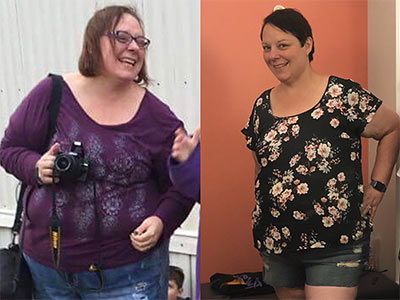 LOST 100 POUNDS
I had tried every diet and exercise program imaginable and given up on myself. But then I stumbled across a Body Groove video on Facebook and I was hooked. And today, I made it to that 100 pound mark in less than 7 months!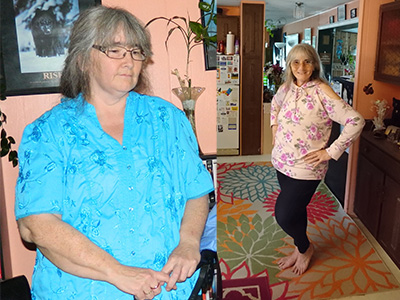 LOST 115 POUNDS
I am addicted to Grooving every day....so much content and so much fun. I am so grateful I found this program and recommend it to anyone who wonders if they should try.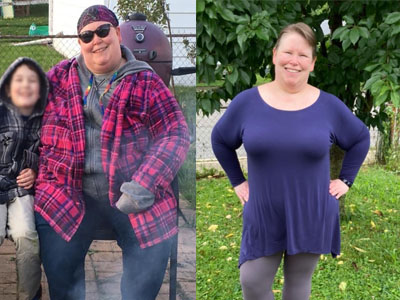 LOST 139 POUNDS
When I first started I had to sit down between segments, catch my breath, and then start the next one. Now I can groove for 45 minutes with no breaks.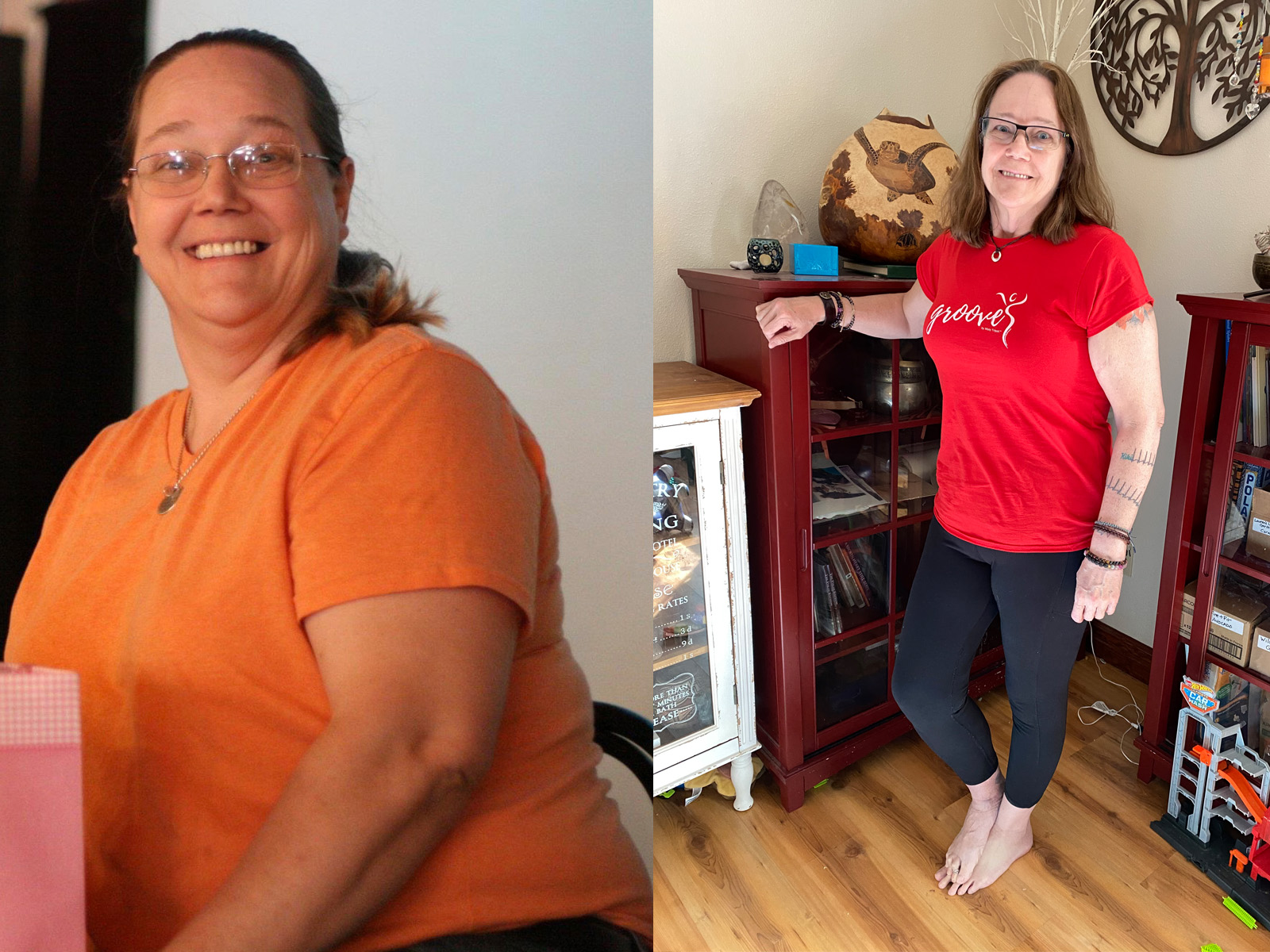 LOST 134 POUNDS
I love that when I first started doing Body GrooveI I did it in a chair… that's all I could do. Body Groove meets you where you're at and helps you progress. After a couple of weeks I was able to get up and move around and now, there's no stopping me.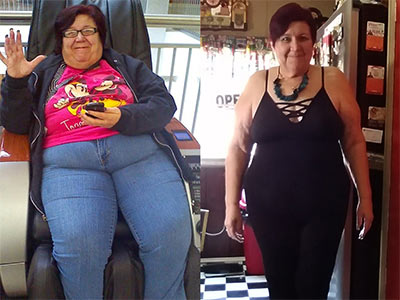 LOST 130 POUNDS
I started out slow sitting in my chair, then more weight started coming off and then I started getting up dancing more than ever. I lost 130 pounds thanks to Misty and Body Groove.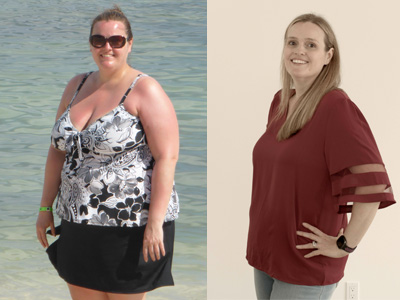 LOST 150 POUNDS
I never thought it was possible to love any kind of exercise… but I love Body Groove, so much. I can't wait to do it every day. It's given me so much confidence and now I feel like I can do anything.
* These results are WITHOUT "impossible to-stick with" diets, or radical changes in lifestyle.
Too often we either put ourselves second to everyone else in our lives, or we don't take care of ourselves in the way that guarantees our health or happiness. That stops today. You are worthy of all of happiness that life has offer. And that's what Body Groove will reinforce to you every single day. You deserve the best because you're worth it. Body Groove helps with weight loss when used in combination with healthy eating, and your results will vary depending on starting point, duration, and other factors.
Congratulations!
You've kind of hit the jackpot...!
Normally, our Body Groove On-Demand membership is $14 a month.
But to get you ready for the NEW YEAR, this month we're running a special Holiday Discount...
For a limited time, it's only $5 a month.
But it gets EVEN BETTER...
Your $5/month pricing will NEVER go up, and you'll still get all of the NEW releases and future content.
If you don't love Body Groove, you can cancel your membership at any time, no questions asked.
Get this deal before it's too late. Take action right now!
Your membership gives you access to the entire library of 600+ Body Groove workouts on your computer, smartphone, and all our apps.
Your body is unique and wonderful, and the results you experience with any exercise program will be unique. Healthy weight management generally requires both appropriate activity and proper diet. Consult your physician or health care provider and follow all safety guidance before beginning any exercise program or nutrition plan, especially if you are pregnant, breastfeeding, have any medical condition, or are taking any medication. The contents on our website, social media pages and DVDs are for informational purposes only, and are not intended to diagnose any medical condition, replace the advice of a healthcare professional, or provide any medical advice, diagnosis, or treatment. Body Groove helps with weight loss when used in combination with healthy eating, and your results will vary depending on starting point, duration, and other factors.
Copyright © 2022 Body Groove | help@bodygroove.com | 26895 Aliso Creek Road, #B501, Aliso Viejo, CA 92656