DON'T LIKE FOLLOWING STRICT
EXERCISE

ROUTINES?
If you can dance, you can cardio. And everyone can dance!
Cardio reinvented for every body
Take everything you think you know about cardio and throw it out the window. Together you and I are starting from scratch!
I created Body Groove to help people reconnect with their bodies and start enjoying life again. And if there's one thing that promotes happiness, it's free, creative, unapologetic movement!
~ Misty Tripoli, Creator of Body Groove
At its core, what actually IS cardio?
It's physical activity that gets your heart rate up. That's it! It's not a million burpees or a mile long run- it's just MOVEMENT! And you know what that means?
Cardio looks different for everyone! And that my friends, is where Body Groove HIIT 2 comes in…
This super fun collection of dance workouts helps to improve stamina, flexibility, balance, strength and general fitness through simple, easy-to-follow routines that feel GOOD. As your Groove Guide I won't enforce any strict rules, I'll encourage you to make each movement your own.
Remember, CARDIO IS DIFFERENT FOR EVERYONE! So find out what feels good for you!
I did other workouts for years. The ones where you have to do exactly what they are doing and would beat myself up if I didn't feel like I was doing as many reps as the people on the screen, or moving as fast. So I just stopped doing it. Then came Body Groove…

When I first saw the ad on Facebook I couldn't believe it was a real program so I scrolled past. After seeing it a few more times, I decided to give it a try. It was love at first dance! I look forward to doing this program on a daily basis and love that I can move at my own pace and I can be my own individual instead of trying to mimic everyone else. Best thing I ever did for me." - Shauna P.
Since you'll do exactly what feels right for you, I promise you'll see incredible results. You will be amazed at what your body can do when you let it have fun when you exercise.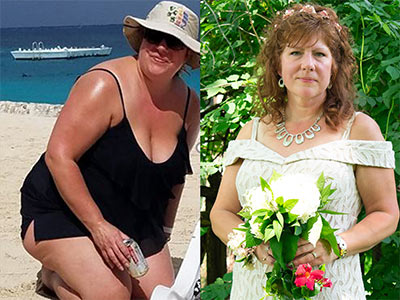 Jami F.
Lost 60 pounds*
I didn't go into this thinking I would have this sort of weight loss, where my children look at me and say "you're melting".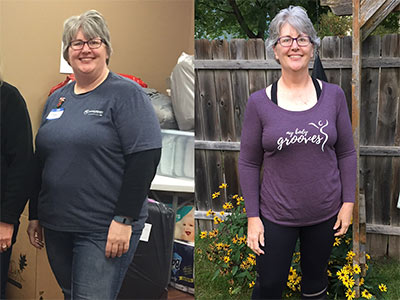 Toni K.
Lost 80 pounds*
It's a fun way to exercise and almost feel like you're not exercising, but you're getting a great workout.
* Body Groove helps with weight loss when used in combination with healthy eating, and your results will vary depending on starting point, duration, and other factors.
Make each move your own with Body Groove HIIT
TAKE ADVANTAGE OF THIS LIMITED OFFER TODAY
Get the entire 10-DVD Body Groove HIIT library for just $49!
Body Groove HIIT launched in 2020 and unlocked the power of HIIT exercise for all fitness levels.
Now, Body Groove Master Trainer Heather Winia is back with even more fun with the Body Groove HIIT 2 Collection.
HIIT Series 1 Workout 1
HIIT Series 1 Workout 2
HIIT Series 1 Workout 3
HIIT Series 1 Workout 4
HIIT Series 2 Workout 1
HIIT Series 2 Workout 2
HIIT Series 2 Workout 3
HIIT Series 2 Workout 4
Body Groove Core Workout
BONUS

Body Groove House Party 2
FREE BONUS
Streaming Video - $39 Value
Free streaming video access
For easy instant grooving anywhere, your order also includes streaming video access, so you can watch on your computer, Roku, AppleTV, or Amazon FireTV. Purchased separately, streaming video access is $39, but it is included as your free gift with your DVD order today!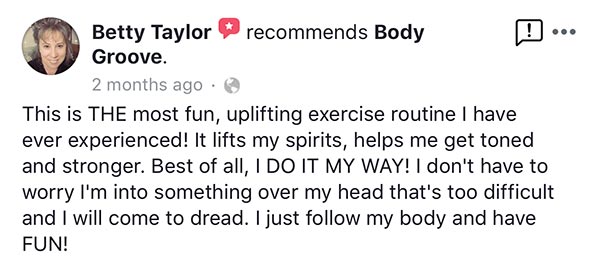 Great Value Bundle
Order Summary
HIIT Series 1 Workout #1

$20 Value

HIIT Series 1 Workout #2

$20 Value

HIIT Series 1 Workout #3

$20 Value

HIIT Series 1 Workout #4

$20 Value

HIIT Series 2 Workout #1

$20 Value

HIIT Series 2 Workout #2

$20 Value

HIIT Series 2 Workout #3

$20 Value

HIIT Series 2 Workout #4

$20 Value

FREE

Body Groove Core Workout

$20 Value

FREE

Body Groove House Party 2

$60 Value

FREE Streaming Video

$39 Value

60 Day Money Back Guarantee
Total Value: $279
Your price $49
• 60 Day Money Back Guarantee
• Ships within 1 business day
• Pay with Credit card, PayPal or Amazon Pay
• Our prices are US dollars
Or buy individual DVD sets