Click above to play video introducing Body Groove
Please use this discount opportunity to join the Body Groove family!
A personal invitation from Misty Tripoli, the creator of Body Groove
All over the world, women are finally enjoying the strength, agility, energy and confidence they have always wanted by replacing outdated exercise ideas with a wildly creative at-home dance program.
It's all made possible (and EASY) by Body Groove's "inside-out" way of understanding movement and health.
Instead of trying to endlessly mimic boring old exercise movements, Body Groove is all about listening to YOUR BODY as it reveals your personalized path to unstoppable fitness and health.
I want YOU to be the next person who sees their life revolutionized by Body Groove, and the great news is you don't need any special equipment, and you can do everything in the comfort and privacy of your own home.
You'll be working 1-on-1 with me, through our comprehensive video program that will give you everything you need to live your new, Groovy life.
Accessing all your Body Groove videos is as easy as watching a show on Netflix. Our apps are available on Roku, AppleTV, FireTV, Android, iOS, or you can use a computer or smart TV, too.
When you get an all-access membership, nothing is held back and EVERYTHING you need is included, and you'll be welcomed into the Body Groove family.
And we really are a family! Come join our private Facebook group and live Zoom calls, and you can talk with thousands of people on a journey to change their lives by changing how they move, one dance at a time. We like to say "No one can do this for you, but you don't have to do it alone."
Altogether, this life-changing program is worth over $2,000, but that is a drop in the bucket compared to the value of restoring your health and fitness.
And the cost of continuing to suffer in your current state of health is out of the question. You NEED to take this step for yourself.
I'm asking you to accept this invitation into the Body Groove family for the sake of the people you love, and for the sake of the people who are counting on you to be there for them. But mostly, I'm asking you to accept this invitation FOR YOU, because you are worth it.
You deserve to feel amazing, and I can show you how to do it, starting today.
Much love,
Misty Tripoli, creator of Body Groove
Here's what real women have to say about Body Groove...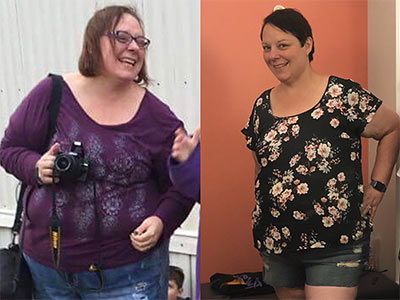 LOST 100 POUNDS*
I had tried every diet and exercise program imaginable and given up on myself. But then I stumbled across a Body Groove video on Facebook and I was hooked. And today, I made it to that 100 pound mark in less than 7 months!
- Jennifer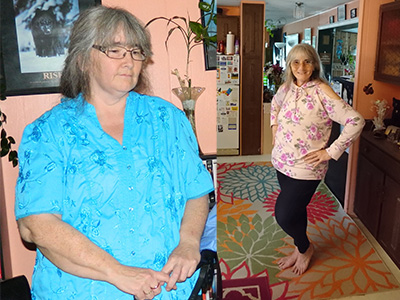 LOST 115 POUNDS*
I am addicted to Grooving every day....so much content and so much fun. I am so grateful I found this program and recommend it to anyone who wonders if they should try.
- Sylvia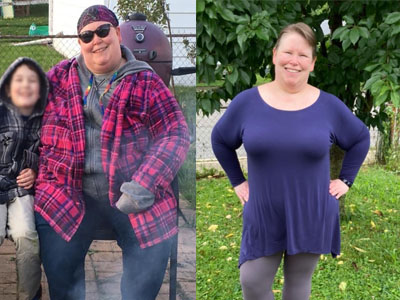 LOST 139 POUNDS*
When I first started I had to sit down between segments, catch my breath, and then start the next one. Now I can groove for 45 minutes with no breaks.
- Ronda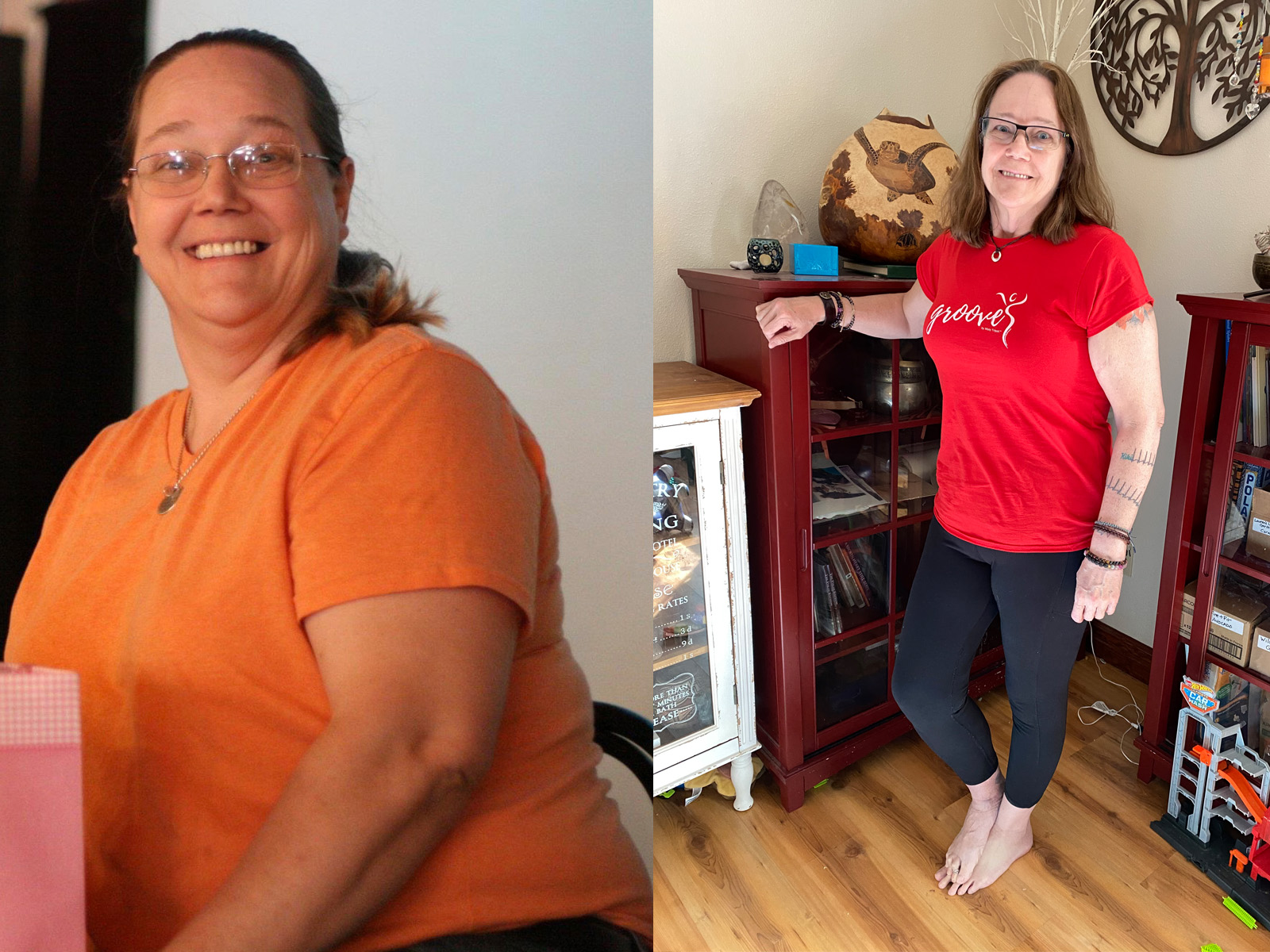 LOST 134 POUNDS*
I love that when I first started doing Body Groove, I did it in a chair… that's all I could do. Body Groove meets you where you're at and helps you progress. After a couple of weeks I was able to get up and move around and now, there's no stopping me.
- Sheree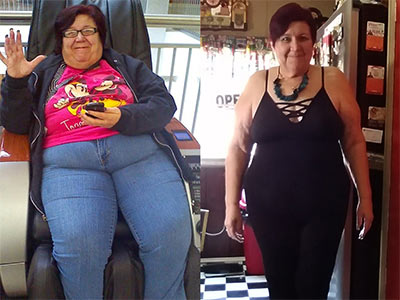 LOST 130 POUNDS*
I started out slow sitting in my chair, then more weight started coming off and then I started getting up dancing more than ever. I lost 130 pounds thanks to Misty and Body Groove.
- Penny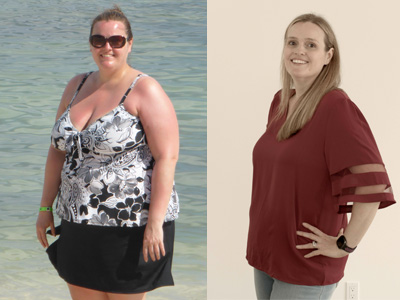 LOST 150 POUNDS*
I never thought it was possible to love any kind of exercise… but I love Body Groove, so much. I can't wait to do it every day. It's given me so much confidence and now I feel like I can do anything.
- Carissa
*Body Groove helps with weight loss when used in combination with healthy eating, and your results will vary depending on starting point, duration, and other factors.
Explore the Body Groove video collections
Delicious Dance
Delicious Dance is a totally new way of dancing that feels amazing and transforms your body, without any complicated choreography.
Intuitive movements come naturally (you'll get this right away!)
So fun you won't even feel like you're exercising
Easy to do at any fitness level
Purchase for $49
Included in your membership
Light & Easy
Light & Easy is a gentle yet effective introduction to Body Groove.
Simple movements allow beginners to make immediate progress
"Goldilocks" pacing keeps your heart rate in an ideal fat burning range while you dance
Stability by design keeps you safe and confident while you build your balance
Purchase for $39
Included in your membership
Dance Your Heart Out
Learn how to dance with authenticity and passion to truly tune-in to your body.
Liberating dances that become more expressive each time you do them
Gentle "slow-down" routines build balance and agility
Bonus self-care session teaches the pain relieving secrets of self-massage
Purchase for $59
Included in your membership
Get Happy
Did you know that your happiness is determined in large part by your levels of "happiness hormones"? The Get Happy Collection is designed to send those happiness levels soaring!
"Zero-frustration" dances guarantee immediate success
Whole-body movements release tons of "happiness hormones"
Synchronizes your mind and body to relieve stress and anxiety
Purchase for $39
Included in your membership
Gentle Groovy Yoga
Yoga offers tremendous health benefits, but it's complicated and intimidating. This unique twist on yoga peels away the complexity to turn yoga into gentle dances, so that ANYONE can get the benefits.
No prior yoga experience required
Unlock incredible flexibility that makes everyday life safer and more comfortable
Get that "post-workout bliss" without a frustrating yoga experience
Purchase for $39
Included in your membership
Gentle Groovy Pilates
Pilates is a proven winner for toning muscles, and with Misty's easy-to-follow teaching, you'll get all the results without any of the complexity.
Lengthen your muscles without any fancy gym equipment
Strengthen from head to toe
Perfect for any fitness level
Purchase for $39
Included in your membership
Classsic Grooves
Turn back the clock with these retro grooves set to jammin' swing, jazz, blues, R&B and funk music.
Tap into a century's worth of popular music styles to keep your Groove sessions fresh
Master many different varieties of dancing by learning how to do it the way that is right for your body
Time-tested dance movements that will make you feel light on your feet
Purchase for $49
Included in your membership
Move & Groove
Amazingly easy yet incredibly fun dance moves make this collection an instant good time!
Tap into your natural rhythm abilities that you may not even know you have
Customize your pace to make it perfect for you
Go from "I'm not a dancer" to "Watch how I move!" in your first session
Purchase for $39
Included in your membership
Body Groove HIIT
The closely guarded secret of elite sports training meets freestyle, no-rules dancing!
Use carefully timed intervals to trigger 24 hours of fat burning hormones
Engages full range of motion to put your body into muscle-sculpting mode
Includes "zero crunch" ab workouts to deliver an amazing core workout while you dance
Purchase for $99
Included in your membership
Sassy...And I Know It
Unleash your sassiest and most unstoppable you with these dance moves.
"Power generating" choreography converts your physical movements into incandescent confidence
You'll finish this dance party OVERFLOWING with positive energy
The poise and courage you gain in the dances will transform every area of your life
Purchase for $39
Included in your membership
Family Groove
Groove for the whole family! This collection connects all ages through the power of dance!
Easy to do, from ages 5 to 95
Teaches kids (and grownups, too) how to listen to their bodies and express themselves through dance
An essential tool to counter the effects of a confidence-crushing social media culture that threatens far too many young people
Purchase for $69
Included in your membership
House Party
From our living room to yours, this collection turns your house into a dance party. Be sure to invite your friends!
6 party playlists loaded with a wide variety of music from our favorite artists
Each playlist includes both heart-pumping cardio and relaxing cool-downs
Transforms your TV room into a creative dance studio where you can dance with abandon
Purchase for $79
Included in your membership
Feel Good Grooves
Your body was made to move, which is why these dance moves will make your body feel amazing! Once you try these dances, you're going to crave your next Groove session!
Ingeniously choreographed by hip-hop dance trainer MirandaGroove to spark your body's stress-relieving defenses
You'll look as good as you feel with these graceful movements
Includes "Towel Groove", a wildly creative workout with hand towels
Purchase for $49
Included in your membership
Total Body 15 Minute Workouts
Pressed for time? You only need 15 minutes to get a complete workout for your entire body with these efficient and entertaining Groove sessions.
These workouts are themed by music style, and include hip-hop, funk, blues, jazz, swing, rock, disco, and more
Since they are so short, you can do one in the morning and one in the evening to double your impact
Don't miss the 15 minute yoga fusion workouts, which turns easy yoga poses into dances
Purchase for $79
Included in your membership
Freestyle Fun
You don't need to follow complicated rules to dance and get healthy! These dance sessions teach you how to break all the rules to unleash the dance star within.
Forget copycat dancing - develop your own style that authentically expresses

you

A wide mix of styles to cover all your musical bases
Proves once and for all that if you can have fun while you move, you can accomplish all your fitness goals
Purchase for $59
Included in your membership
Tropical Groove
Let the tradewinds carry you away to the tropics with this feel-good dance party filmed live under the beautiful Hawaiian sun.
Gentle, spacious dance rhythms blend perfectly with the tropical landscape to set a relaxing mood
Choreographer MirandaGroove's infectious humor gives these dance sessions an extra dose of fun
Includes "Towel Groove 2", which is as entertaining as it is effective
Purchase for $39
Included in your membership
Dance Party with Dani
Looking for dance moves that express your very own sophisticated style? Choreographer Dani Nobrega has you covered with this cool and cosmopolitan collection of gorgeous dances.
Push your creative limits with Dani's inspiring coaching
Discover just how much you are capable of by trying these new routines
These dances will leave you feeling completely at-home on ANY dance floor
Purchase for $39
Included in your membership
Spirit Groove
Dancing isn't just about burning calories and getting stronger. It's also about waking up and revitalizing the vibrant spirit within you.
This collection is all about creating true harmony between your mind, body and spirit
Choreographer Garnet Suidy will help you unleash all of your passion and motivate you to reach your goals
These dances are guaranteed to leave you feeling more and more at peace with the deliciously unique YOU
Purchase for $39
Included in your membership
Spicy Latin Dance Party
There's something unique about Latin dance that inspires a life-changing surge of confidence! In this collection, Misty Tripoli and Dani Nobrega team up to unlock the secrets of latin dance in an easy and approachable way.
Fun (and very cool looking!) Latin routines to take your dancing to the next level
With just a few minutes of practice, you'll be tearing up the dance floor like a pro
WARNING: the confidence you gain from latin dance will overflow into EVERY area of your life
Purchase for $79
Included in your membership
Bootylicious
If you've been led to believe that endless squats and lunges at the gym are the only way to get a booty workout, this video collection is for you! You'll learn how to dance your way to a world-class lower body workout that you'll love.
These dances help you tap into your full range of lower body motion, without painful and dangerous gym equipment
Although these lower body workouts are quick, you'll burn a TON of energy, so get ready to sweat
The dance moves are a great workout, but they also look amazing on the dance floor
Purchase for $39
Included in your membership
Young At Heart
The search for the fountain of youth is over! Dancing keeps you young, and this collection was created by Misty Tripoli and her two favorite 82-year-old dance teachers to show anyone, at any age, how to regain youthful energy and vitality.
Gentle yet challenging for anyone, at any age
Increase strength, balance and agility that to immediately improve your daily living
The brain-body coordination of dancing is PROVEN to improve the cognitive performance of seniors
Purchase for $49
Included in your membership
Morning, Noon And Night
The perfect groove, for every moment of your day! In this collection, MirandaGroove gives you quick 10 minute routines designed for morning, noon and night.
Start the day with a gentle wake up that kick starts your day
When you're ready for a midday pick-me-up, all you need is 10 minutes of grooving
Guarantee yourself great sleep with 10 minute relaxation routines that will melt away any stress or tension
Purchase for $39
Included in your membership
Body Groove FIT
In just 20 minutes, choreographer and fitness expert Heather Winia can give you an amazing workout with these dances.
Five 20-minute dance sessions to take your fitness to the next level
The name of the game with these routines is FUN, so your workouts will fly by fast
Like all Body Groove sessions, you modify everything to match your energy and fitness level
Purchase for $39
Included in your membership
Therapeutic Movement
When pain flares up in your body, knowing the secrets of your body's natural healing pathways can make the difference between being sidelined on the couch or living life to the fullest.
You'll learn how to use slow and gentle movements to take away pain
These videos have you covered from head to toe, so you can address your pain points right away
"Pre-hab" routines will help you stay pain free and prevent injury
Purchase for $99
Included in your membership
Discover Your Groove 30 Day Challenge
Our week-long Groove retreats will change your life, but they aren't a practical option for everyone. With this video collection, you can get all the benefits in the comfort of your own home, by working at your own pace through this 30 day program.
Click here for sound
Click here to turn sound off
Each day, you'll work through Misty's Discover Your Groove workshop, which will help you change your life from the inside out
Then you'll hit the dance floor with a 30 minute dance routine designed to put what you learned in the workshop into practice right away
This is the perfect program for anyone committed to transforming their life
Purchase for $199
Included in your membership
Elevate Your Fitness
Body Groove choreographer Heather Winia is a professor of physical education, but you don't need to be a university student to get an in-depth fitness education. Heather's 12 week Elevate Your Fitness program will guide you through mastery of the 12 key dimensions of fitness so that you can take complete charge of your health.
Weekly video lectures that cut through the confusion around fitness to give you the knowledge you need to master your health
You'll put your knowledge into action with workouts that highlight each week's fitness dimension
You can interact directly with Heather through her private Facebook group just for Elevate Your Fitness students
Purchase for $399
Included in your membership
Thousands of 5 star reviews for our easy-to-use iOS, Android, AppleTV, FireTV and Roku apps
"It feels wonderful to be able to get back in shape, have fun through expressive movement and dance, and increase my energy for the rest of the day. Highly recommend this app and program."
- App store review
"I love to dance but hate to exercise. I thought this looked like something I could do, and I'm hooked. My body knows I am exercising because my muscles can feel it, but my heart and brain are having so much fun grooving that I just want to keep dancing!!"
- App store review
"What a difference Body Groove has made in my life! The routines are SO FUN! You can't get it wrong! After 2 weeks, I felt more fluid, stronger, sure-footed and even happier in my everyday movement."
- App store review

Press Clippings

"The most innovative exercise program ever!"
- SparkPeople.com
"Easy-to-follow and oh-so-fun!"
- Women's World
Your body is unique and wonderful, and the results you experience with any exercise program will be unique. Healthy weight management generally requires both appropriate activity and proper diet. Consult your physician or health care provider and follow all safety guidance before beginning any exercise program or nutrition plan, especially if you are pregnant, breastfeeding, have any medical condition, or are taking any medication. The contents on our website, social media pages and DVDs are for informational purposes only, and are not intended to diagnose any medical condition, replace the advice of a healthcare professional, or provide any medical advice, diagnosis, or treatment. Body Groove helps with weight loss when used in combination with healthy eating, and your results will vary depending on starting point, duration, and other factors.
Copyright © 2023 Body Groove | help@bodygroove.com | 26895 Aliso Creek Road, #B501, Aliso Viejo, CA 92656