The Delicious Dance DVD Collection is our best-seller!
Here's what's included:
Delicious Dance Series 1-3
19 easy, fun and EFFECTIVE dance workout routines, each between 4 - 9 minutes in length. From high-energy dances like "The Love Bus" and "House of Dance", to mellow grooves like "Chiller's Lounge", there's so much variety in the collection!
Check out some of the dance workouts included in this collection:
Here's what people say about these workouts on Facebook: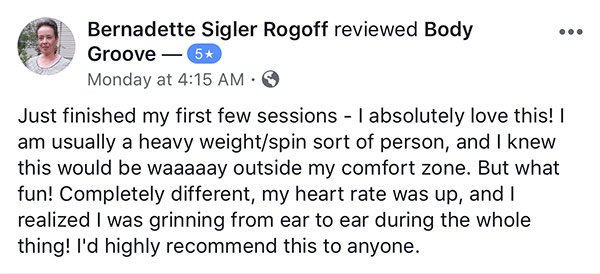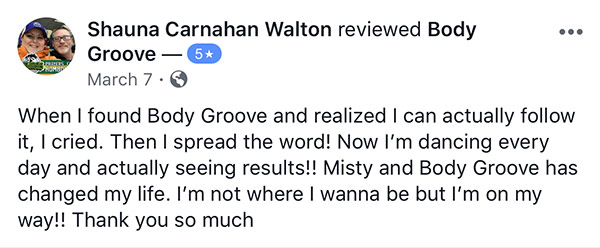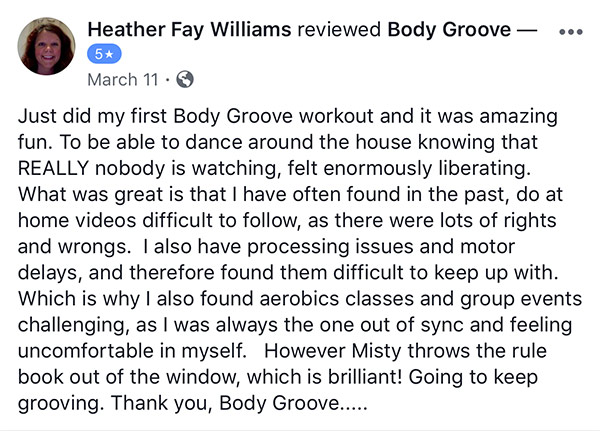 Plus you'll get even more with your order today…
Delicious Dance Stretch & Flex
As we age, it's ESSENTIAL that we keep our bodies flexible to decrease our risk of getting hurt, and to keep us mobile. That's why I created these 7 Stretch & Flex workouts. They're a $20 value, but I'm including them in your shipment as your free gift!
Delicious Dance Mind & Body
Unlike "regular" exercise, where you just mindlessly follow an instructor, Body Groove lets you engage your mind in every workout. That's what we highlight in this gentle yet challenging collection of dances. You can purchase it separately for $20, but I'll include it FREE with your order today.
There's no risk to try Body Groove because I GUARANTEE your results
I've seen Body Groove transform the health of thousands of people just like you, so I'm 100% confident that it will work for you, too. That's why I personally guarantee your results. Order the DVDs today and put them to the test for the next 60 days.
If you aren't completely hooked on Body Groove and THRILLED with your results, you can send back the DVDs and I'll refund your money, no questions asked.
The only reason I can make this guarantee is that I know how effective Body Groove is, and I know you'll love the results!
Body Groove is the exercise revolution you've been looking for!
If you've bought into the "no pain, no gain" nonsense behind most "regular" exercise, it's not your fault. We've been lied to, over and over again, and told that exercise has to hurt.
But now that you've seen for yourself how your body can transform with gentle, fun and easy exercise, it's your turn to leave old-fashioned exercise behind and start something new.
Look, you and I aren't elite athletes training for the Olympics. We don't need to run a marathon, or chisel out 6-pack abs.
We want to have a healthy weight, a healthy heart, and and the strength and mobility to enjoy life to the fullest. And that's EXACTLY what Body Groove gives you, all without painful, boring workouts.
With this special offer on the Delicious Dance Collection, now is the perfect time to experience all the benefits that Body Groove offers. And since you can do it risk free, there's no excuse not to start right now!
Here's everything you get with your order today: