Are you an independent thinker...?
Hi, I'm Misty Tripoli.
The reason I ask if you're an independent thinker is that if you want to achieve true, lasting health, you may need to FORGET EVERYTHING you've been told about exercising and working out.
You see, most exercise routines follow prescribed movements that fail to take into consideration your individual personality and abilities.
This makes most exercise boring and oftentimes painful… because it's wrong for your body…
And that's why when most people do regular exercise, they can't wait to finish... so the pain can stop.
THAT'S CRAZY! No wonder most exercise fails!
Moving your body should never be about strictly following someone else's regimented set of exercise moves.
Instead, it should be made for the way your body naturally moves...independent of how others tell you to move.
Plus, it should also be fun, enjoyable, stress-free and relaxing… something you can't wait to do, and you don't want to stop…
And that's what my Body Groove dance series is all about…
In Body Groove I give you super-simple choreography that anyone can do, but also the freedom to make each movement your own by adding exactly the style that you want…
It's a completely different way to work out that doesn't have you mindlessly following an instructor's moves on what they think is right for your body...
Instead, you move the way that feels right for you...
And as you'll see, this will make all the difference…
Oh, and did I mention, it is INSANELY FUN!
BUT… you have to be a little bit of an independent thinker to see how this will work for you.
Get started today with the best-selling Body Groove Dance Your Heart Out DVD Collection!
Here's what's included:
Dance Your Heart Out Series 1-3
18 easy, fun and EFFECTIVE dance workout routines, each between 4 - 7 minutes in length. From high-energy dances like "Super Funk" and "Love Set Me Free", to mellow grooves like "Chill Lounge", there's so much variety in the collection!
Check out some of the dance workouts included in this collection:
Here's what people say about these workouts on Facebook: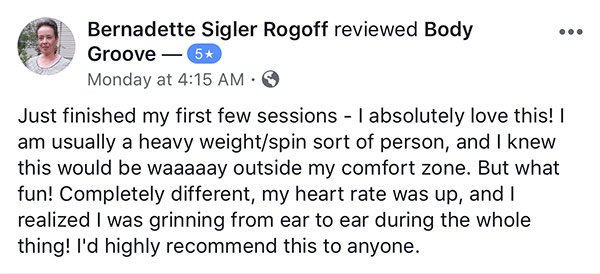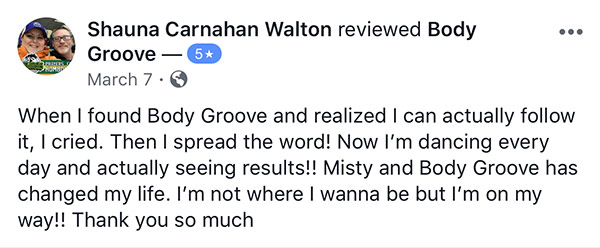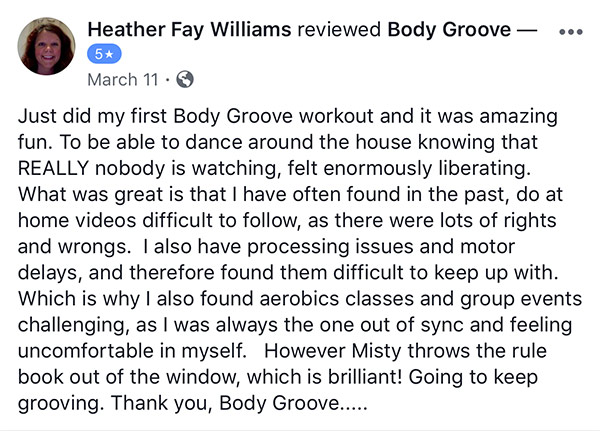 Plus you'll get even more with your order today…
Dance Your Heart Out Alive & Strong
When you're looking for a high-energy, intense Groove session, Alive & Strong is exactly what you need. These six sessions will give your entire body a GREAT workout!
Dance Your Heart Out Relax & Restore
Unlike "regular" exercise, where you just mindlessly follow an instructor, Body Groove lets you engage your mind in every workout. That's what we highlight in this gentle yet challenging collection of dances. You can purchase it separately for $20, but I'll include it FREE with your order today.
This guided 14-minute self massage session is designed to empower your body's natural healing and restoration abilities. I recommend treating yourself to this amazing sensation at least once a week!
Why I needed to create BODY GROOVE...
Even though I now travel the world teaching my revolutionary health and workout secrets, I wasn't always healthy… In fact, for years I was anything but…
I was always tired, bloated, and frequently overweight… (Which is really ironic because at the time I was an elite fitness instructor at one of L.A.'s top gyms, teaching dozens of aerobic classes every week…)
Even worse, from a very young age, I was so desperate to look a certain way that I actually developed an eating disorder called bulemia where I forced myself to vomit after I ate…
This was a terribly dangerous thing to do to my body, but I felt so much pressure to be thin that I didn't think about that at the time.
But then one day it all changed…
After suffering from bulimia for 16 years, and torturing myself by exercising too much… I was desperate to find the answers to how I could get truly healthy.
Then, while teaching a dance class one day I noticed something for the first time…
The people in my class were trying to move their bodies exactly the same way I moved my body - granted that's the way most exercise classes work - but for the first time, I realized how ineffective and potentially dangerous this kind of exercising was.
You see, the problem with trying to move exactly like someone else is that you're a unique individual, with a body that's designed to move in your own unique way.
A movement or exercise that works for one person may not work for you.
Which means... for you to get to the greatest benefit out of moving, you've got to do it in your own unique way… NOT someone else's way.
That's the only way to reach your own body's potential and achieve true, lasting health.
The bottom line is that you can't copy, or even restrict your movements based on the way someone else moves their body. What works for them, probably won't work for you.
You need to do things your way… and that's what led to the discovery of the REALLY BIG SECRET to TRUE HEALTH… !
The FREEDOM to move your body YOUR WAY is the secret to getting a healthy body
The FREEDOM to move your body YOUR WAY is the secret to getting a healthy body
I'd been teaching my classes in a totally old-school, regimented way that not only prevented the participants from moving in a creative, unrestrictive manner, but that also prevented me from moving my own body in a creative, unrestrictive manner.
So, I started experimenting with movement.
I really listened to my body and started to move and dance in a fun, creative way… without of any of the traditional exercises that had failed people for decades.
There were no pushups, burpees, or jumping jacks. There was none of the pain or stress that so often was associated with exercise.
Instead, I slowed down when my body wasn't feeling like it could do something… and pushed myself when that felt right, too.
But more than anything, I gave myself permission to move my body in its own creative, unique way and I continuing pushed myself to do things differently.
And that's how my Body Groove series was born…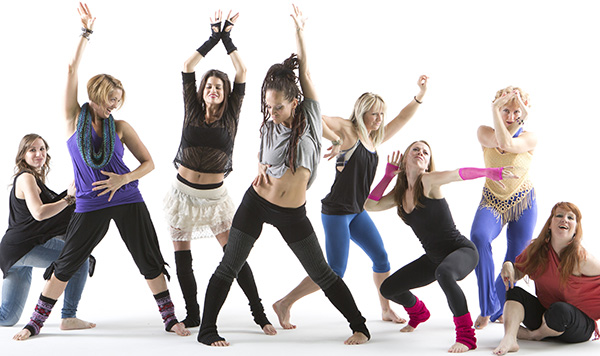 The moment I stopped following traditional workouts and did things my own way, I started to feel awesome…
My stress levels came down…
My eating disorder of 16 years vanished…
And the more I danced, the faster my body melted away the unhealthy fat that had bothered me for years…
Now… years later, I've taken my Body Groove method of working out around the world… and it has literally changed the lives of thousands of people…
But I've also seen…a lot of weird looks from people who just don't understand what we're doing!
And that's ok. Many people prefer to do highly regimented workout routines that require you to carefully mimic the exact movements of an instructor. If that's your style, then Body Groove probably isn't for you…
But if you're an independent thinker, then I know you'll love Body Groove.
My Dance-Inspired workouts are so totally unique, fun and effective… you'll never want to do a 'regular' workout again.
My Dance-Inspired workouts are so totally unique, fun and effective… you'll never want to do a 'regular' workout again.
My Body Groove series appeals to a different kind of person – the person who prizes their independence, their true worth, and who doesn't want to mindlessly follow a choreographed workout…
So join me… and I promise that you'll never look at exercise the same way again!
There's no risk to try Body Groove because I GUARANTEE your results
I've seen Body Groove transform the health of thousands of people just like you, so I'm 100% confident that it will work for you, too. That's why I personally guarantee your results. Order the DVDs today and put them to the test for the next 60 days.
If you aren't completely hooked on Body Groove and THRILLED with your results, you can send back the DVDs and I'll refund your money, no questions asked.
The only reason I can make this guarantee is that I know how effective Body Groove is, and I know you'll love the results!
Body Groove is the exercise revolution you've been looking for!
If you've bought into the "no pain, no gain" nonsense behind most "regular" exercise, it's not your fault. We've been lied to, over and over again, and told that exercise has to hurt.
But now that you've seen for yourself how your body can transform with gentle, fun and easy exercise, it's your turn to leave old-fashioned exercise behind and start something new.
Look, you and I aren't elite athletes training for the Olympics. We don't need to run a marathon, or chisel out 6-pack abs.
We want to have a healthy weight, a healthy heart, and and the strength and mobility to enjoy life to the fullest. And that's EXACTLY what Body Groove gives you, all without painful, boring workouts.
With this special offer on the Dance Your Heart Out Collection, now is the perfect time to experience all the benefits that Body Groove offers. And since you can do it risk free, there's no excuse not to start right now!
Here's everything you get with your order today: