Thank you for confirming your email address!
Now, check your inbox for a link to your free videos!
If you don't see it, be sure to check your spam folder or junk mail.
While you're waiting, you can see what other people have to say about Body Groove!
This is a workout you can do TODAY!
When Amanda from Illinois was diagnosed with diabetes, she knew she needed to find an exercise program that worked for her. But at 302 pounds, most "regular" workouts were painful and difficult.
Then she discovered Body Groove and quickly lost over 70 pounds!
(Remember, Body Groove helps with weight loss when used in combination with healthy eating, and your results will vary depending on starting point, intensity of exercise, and other factors. Always consult your physician before you start this or any exercise program, especially if you have been diagnosed with a medical condition.)
PHYSICAL fitness is only the beginning (and it's not even the best part!)
Can you imagine losing 75 pounds and brushing it off like it was no big deal?
Check this out this comment I got on Instagram recently...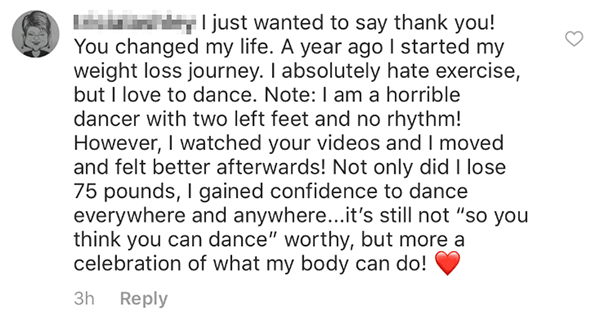 One year ago this woman started her Body Groove journey and hated exercise…
Now, just 12 months later, she's lost 75 pounds
But it's NOT about the weight loss…
It's about the CONFIDENCE to dance!!
If you read that Instagram comment again, you'll see that it's that confidence that really comes through...a woman filled with confidence who 100% believes that she can do anything, no matter her current circumstances.
So if you're ready to experience that confidence, I'm SO excited to share these videos with you. Enter your email address in the box above and let's get started!
What do 2,970 people have to say about Body Groove in their 5 star reviews on Facebook?
The Body Groove Workouts videos have changed the lives of thousands of women all over the world.
One of those women is Dana Grabowski. Here's what she posted on Facebook about Body Groove…
She's not the only one seeing life-changing results from Body Groove...