Complete your Body Groove Collection
Save $131 with this one-time offer!
Complete your Body Groove Collection
Save $131 with this one-time offer!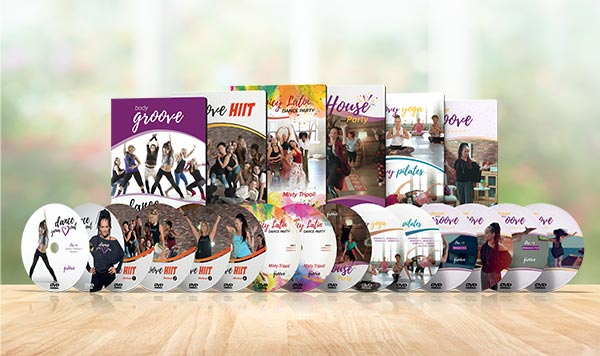 You're going to LOVE your Body Groove Delicious Dance workouts, so you'll want to take advanteage of this opportunity to expand your Body Groove library with 15 additional DVDs!!
While we're getting your Delicious Dance order ready to ship, you can grab the rest of my DVDs to complete your collection and save $131 on my Ultimate Fitness Collection!
Dance Your Heart Out ($34)
Body Groove HIIT ($34)
Spicy Latin Dance Party ($34)
House Party ($29)
Gentle Groovy Yoga & Pilates ($34)
Discover Your Groove ($49)
Plus FREE shipping! ($14)
Normal price: $228
Your price: $97

Adding the DVDs to your cart...
Check out the 15 DVDs you'll get
6 workouts with TONS of variety!
Workouts 1, 2 and 3 are complete half-hour dance parties that deliver a great, heart-pumping workout. You'll also get my Alive & Strong workout, which is perfect for those days when you want to add some extra strength to your day. And for those days when you need to just let your body rest, you'll get my Relax & Restore workout to gently groove to. Last but not least, you'll get my self-care session for a whole-body recovery treatment!
Check out some of the dance workouts included in this collection:
---
Latin Dance isn't just a great workout - it's my ultimate confidence boosting secret!
This new collection of Body Groove routines is a sure-fire way to liberate the strong, sexy, courageous spirit that will transform your life far more than any plain ol' exercise!
(And oh by the way...it's also INCREDIBLY FUN!)
Check out some of the dance workouts included in this collection:
---
Gentle Groovy Yoga is a TOTALLY DIFFERENT way to do Yoga!
I've been doing yoga for nearly 20 years and I can tell you I've never seen anything like this. Over the years while I've absolutely loved doing this type of exercise…I've found it can also be incredibly hard, painful, and even quite rigid in how you're asked to perform the movements.
So I put the "Body Groove twist" on this new program and I think it's going to absolutely knock your socks off!
Check out these videos to learn more about Gentle Groovy Yoga:
---
Gentle Groovy Pilates puts strength and flexibility easily within reach!
There's no question that Pilates workouts can help get your body get strong and flexible. But ordinary Pilates workouts are hard to follow, even for experienced experts.
So I've brought the Body Groove workout philisophy to Pilates, and created short workout videos that are easily adapted for any fitness level.
Check out these previews of the Gentle Groovy Pilates workouts:
---
The House Party Collection is so much fun because it's actually a party!
To create these workouts, I worked with some of my favorite music producers to create brand new music that will absolutely make you want to get up and dance.
Then, I invited a handful of friends over for a dance party - friends of all shapes and sizes who have one thing in common: they hate to "workout" but they love to dance!
Check out some of the dance workouts included in this collection:
---
Body Groove HIIT unlocks ALL of your potential!
These HIIT (High Intensity Interval Training) dance workouts aren't just a blast...they also pack short intervals of intense, heart-pounding movements. The unique interval format sends your metabolism and muscle-building into overdrive!
(And don't worry, they can be done at a wide range of fitness levels!)
---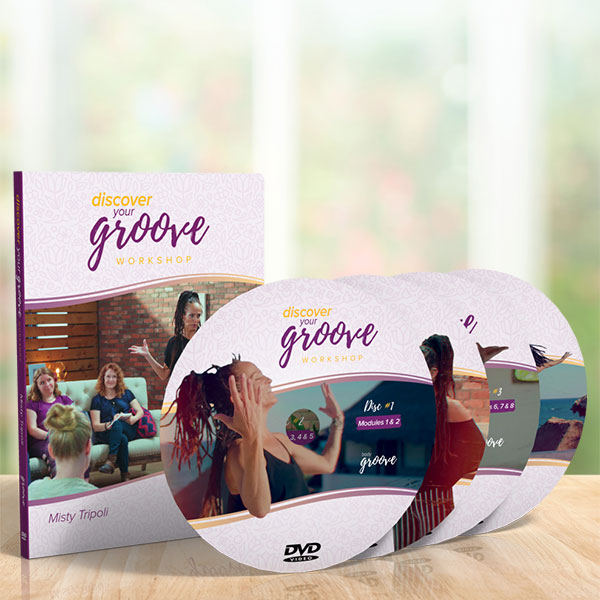 My Discover Your Groove Workshop
When I'm not in the dance studio creating new Body Groove routines, you'll usually find me traveling the world leading my Groove Retreats.
In these retreats, I teach people the 5 Groove Truths that helped set me free from an unhealthy and unhappy life. I'm blown away by the transformations that come from these retreats...but I can only accomodate a few people at each retreat.
That's why I created the Discover Your Groove DVD Workshop. You'll get the same life-changing coaching, and you can explore it at your own pace in this self-guided experience.
Take a look at a small sample of what's included in this workshop:
Free shipping on your Ultimate Fitness Collection anywhere in the US
When you click below to order, I'll rush your extra DVDs to you with FREE SHIPPING! (That's usually an extra $14!)
Place your order today and you'll be grooving in no time!
There's no risk to complete your collection because I guarantee you'll LOVE these DVDs!
Just like your Delicious Dance DVDs, this whole collection comes with a 60 day money back guarantee. If you try these workouts and decide to return them, I'll be happy to refund your money, no questions asked.
But I think you'll find that you new, greatly expanded Body Groove DVD collection is just what you need to feel better every day!
With this special offer, you'll be saving $131, so don't miss out! Click the Add to Cart button below and let's get Grooving!
Remember, once we ship out your Delicious Dance DVDs, this offer one-time opportunity expires, so don't miss out on your ultimate welcome gift!
Here's everything you get with the Ultimate Fitness Collection: