You qualify for discounted pricing, which is only avilable on this page.
Regular price $14
Discounted price
$9.79
Save 30%
Regular price $159
Discounted price
$99
Save 37%
Regular price $699
Discounted price
$349
Save 50%
These prices are only available here. Save 30% - 50% by claiming this discount. All membership options give you access to the entire library of nearly 500 Body Groove videos, on all of your favorite devices, including Roku, Amazon FireTV, AppleTV, iPhone, Android, Windows, Mac, and more!
FINALLY! A fitness program that EVERYONE can do... and still experience INCREDIBLE RESULTS.
Thousands of 5 Star Reviews
⭐️⭐️⭐️⭐️⭐️
Join over 742,883 women who love Body Groove.
---
2. You can't get it wrong
---
3. It's not just exercise
---
4. Your Confidence will SOAR!
---
5. Fresh new workouts every day
---
---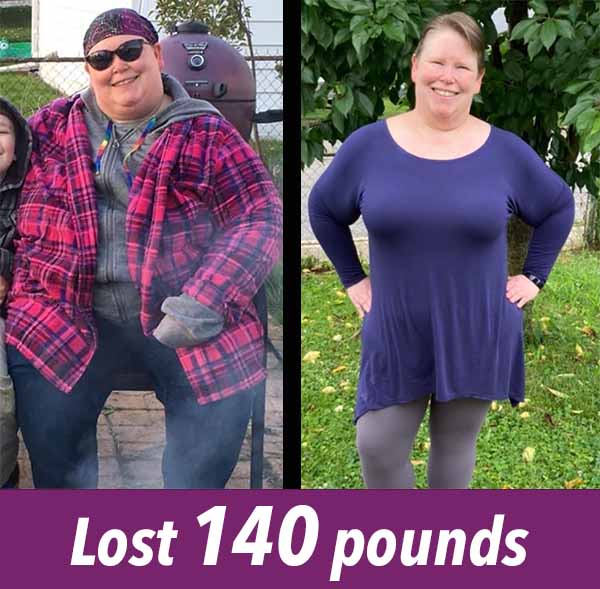 7. The results are amazing
Real Body Groove Results from REAL GROOVERS...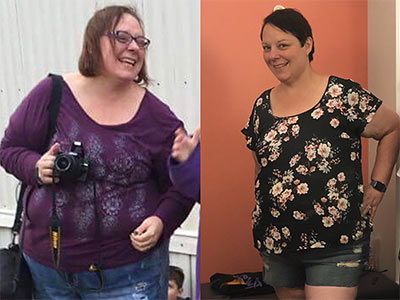 LOST 100 POUNDS
I had tried every diet and exercise program imaginable and given up on myself. But then I stumbled across a Body Groove video on Facebook and I was hooked. And today, I made it to that 100 pound mark in less than 7 months!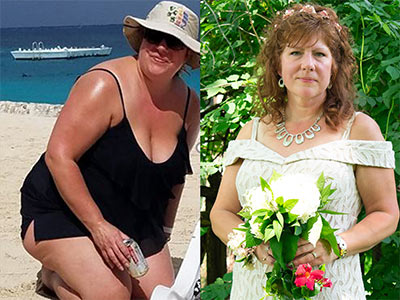 LOST 60 POUNDS
I didn't go into this thinking I would have this sort of weight loss, where my children look at me and say "you're melting".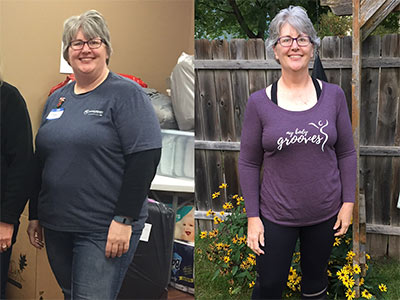 LOST 80 POUNDS
It's a fun way to exercise and almost feel like you're not exercising, but you're getting a great workout.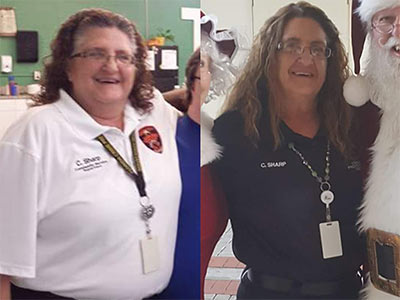 LOST 71 POUNDS
I love Body Groove! It allows me to be active and use all my body. I can go at my own pace, and enjoy all that I do.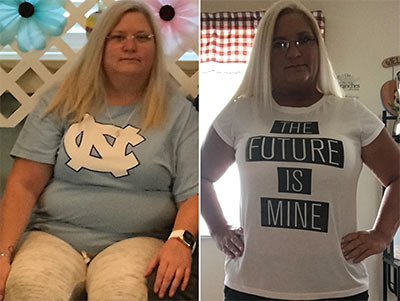 LOST 70 POUNDS
The steps are very simple and easy to do. You don't feel tired or sore afterward. I love Body Groove!
LOST 65 POUNDS
You move your body in a very gentle, compassionate way. And lo and behold, I've lost 65 pounds since January.
* These results are WITHOUT "impossible to-stick with" diets, or radical changes in lifestyle.
Too often we either put ourselves second to everyone else in our lives, or we don't take care of ourselves in the way that guarantees our health or happiness. That stops today. You are worthy of all of happiness that life has offer. And that's what Body Groove will reinforce to you every single day. You deserve the best because you're worth it. Body Groove helps with weight loss when used in combination with healthy eating, and your results will vary depending on starting point, duration, and other factors.
Body Groove was Created by Health and Fitness Expert, Misty Tripoli.
Hi, I'm Misty Tripoli.
My BODY GROOVE routines are completely different from anything you've ever tried…
And that's the reason they're so good, and why so many people absolutely love them…
You see, when most people do regular exercise, they can't wait to be finished… so the pain can stop…
THAT'S CRAZY…!
Moving and exercising your body should never be a punishment…
Instead, it should be fun, enjoyable, stress-free and relaxing… something you can't wait to do, and you don't want to stop…
And that's what BODY GROOVE is all about…
It's a different way to work out that doesn't have you just mindlessly following an instructor's moves…
Instead, while I'll give you the basic choreography, it's up to you to make each movement your own by adding exactly the style that you want…
Whatever feels right to you…
And as you'll see, this will make all the difference…
Oh, and did I mention, it is INSANELY FUN!
Get Started With the BODY GROOVE Workout of the Day...
Each day, we release a new collection of dance routines, approximately 30 minutes long. These routines are hand-selected from our massive library of dances, and they give you a complete dance workout, with warm ups, strength training, flexibility improvements, cardio conditioning, and our unique method of cooling down that keeps the feel-good hormones flowing.
And since each Body Groove workout is designed to be doable but challenging for every body, you'll always know that today's Workout of the Day is perfect for you. And if you want to keep on grooving, there are hundreds of additional workouts at your fingertips on Body Groove On-Demand.
Join over 742,883 women who love Body Groove.
Body Groove WORKS Because it's Totally DIFFERENT, Completely DOABLE and Outrageously FUN.
It makes getting healthy and losing weight as easy as possible.
LOST 40 POUNDS
I realized I was overweight when I knelt down to take a picture and couldn't get up. But once I started with Misty, it was amazing. I'm light on my feet and getting up from the floor no problem.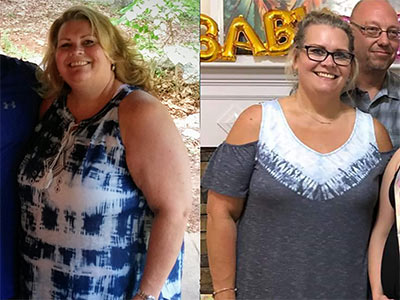 LOST 65 POUNDS
Body Groove is definitely doable. It is something that is so easy to get into and to start. And when I'm exercising I want to eat right, so I just incorporated it all at the same time and started seeing results almost immediately.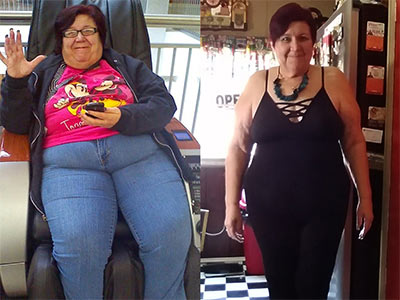 LOST 130 POUNDS
I started out slow sitting in my chair, then more weight started coming off and then I started getting up dancing more than ever. I lost 130 pounds thanks to Misty and Body Groove.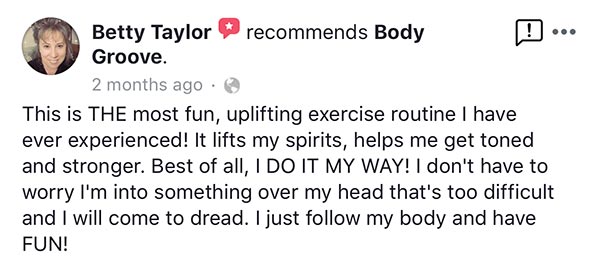 Plus, You Get Hundreds of Other Workouts to Choose From...
Delicious Dance
Delicious Dance is 32 easy, fun & effective dance workout routines, each between 4-9 minutes long.
Gentle Groovy Pilates
Gentle Groovy Pilates will help with your strength and flexibility. They're short workout videos that are easily adapted for any fitness level.
Dance Your Heart Out
The Dance Your Heart Out videos are half-hour dance parties that deliver fun, heart-pumping workouts.
Classic Grooves
Crank up these retro tunes for fun flashback workouts, with Swing, Rhythm & Blues, and more.
Joyful Exercise
Learn the healing power of slow movement with Body Groove expert Julia.
Family Groove
Grab the kids and lets get grooving with this imagination-packed collection of workouts.
Body Groove HIIT
High Intensity Interval Training (HIIT) will stimulate your body's metabolism and muscle-building.
Spicy Latin Dance
Spicy Latin Dance Party is a sure-fire way to liberate the strong, sexy, courageous spirit within.
House Party
The House Party Collection is so much fun because it actually feels like you're dancing at a nightclub.
Gentle Groovy Yoga
Gentle Groovy Yoga is similar to traditional yoga but with a "Body Groove twist" that you'll love.
Body Groove FIT
Body Groove Fit is heart-pumping, groovy 20 minute workouts with a little more energy and intensity.
Body Groove Strong
Get stronger fast with these targeted training routines.
---
Join over 742,883 women who love Body Groove.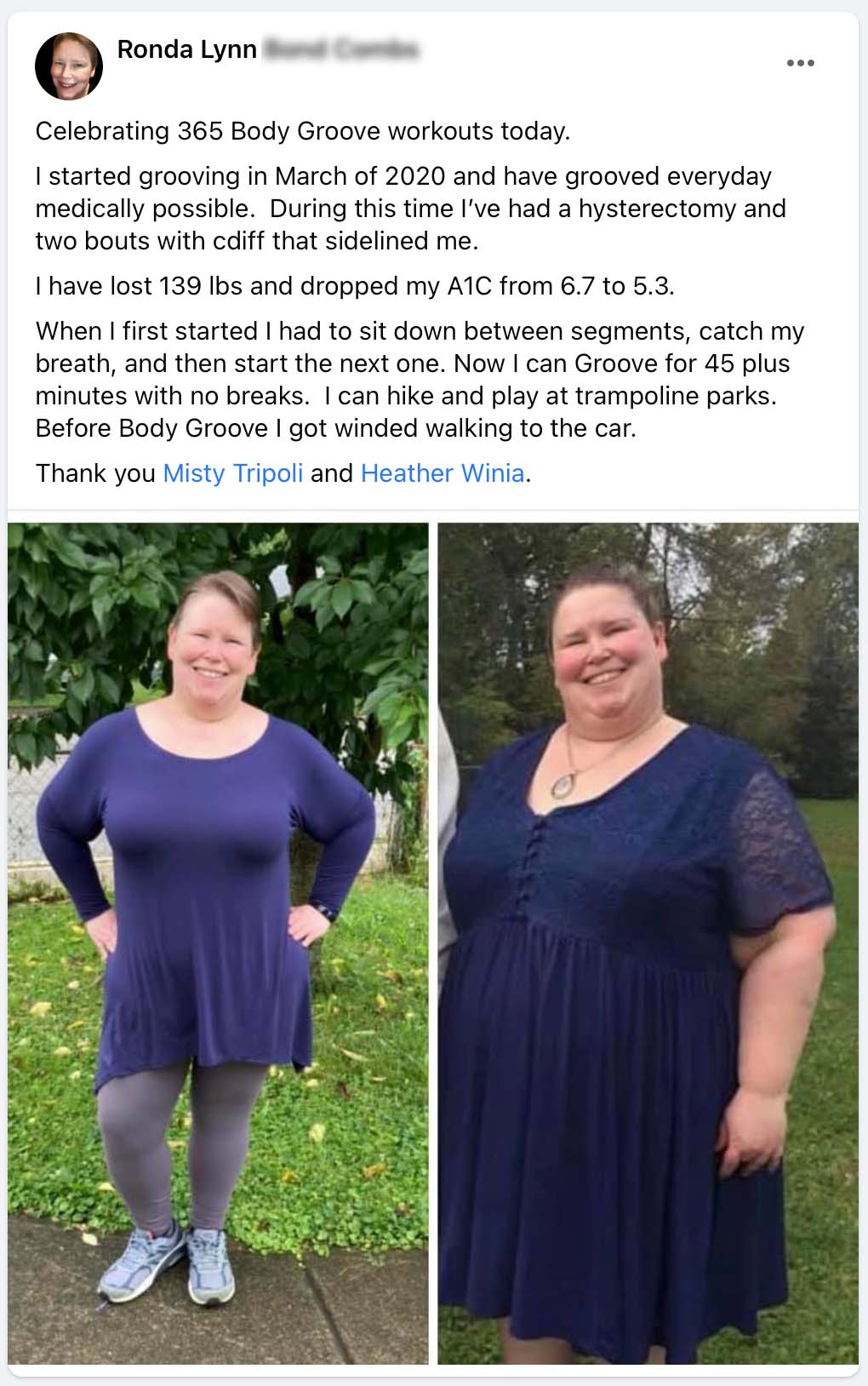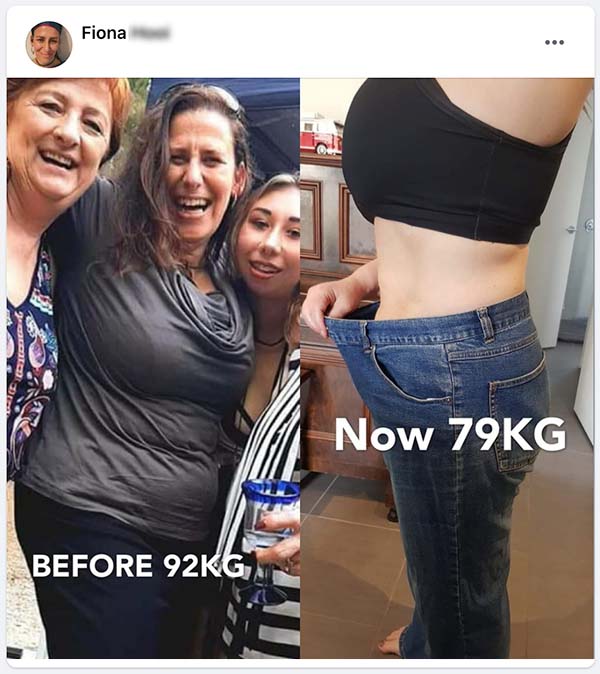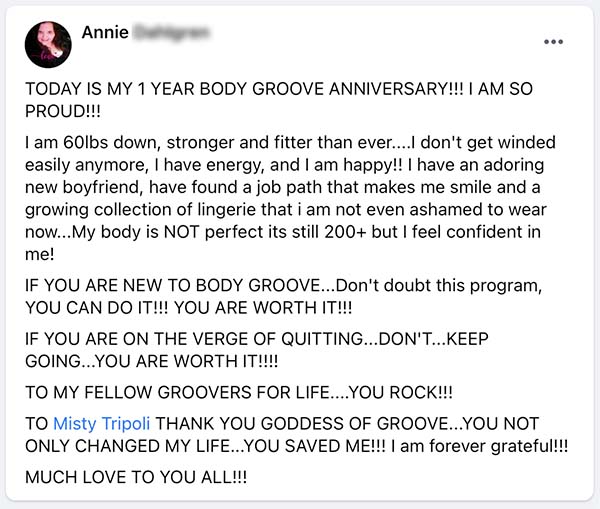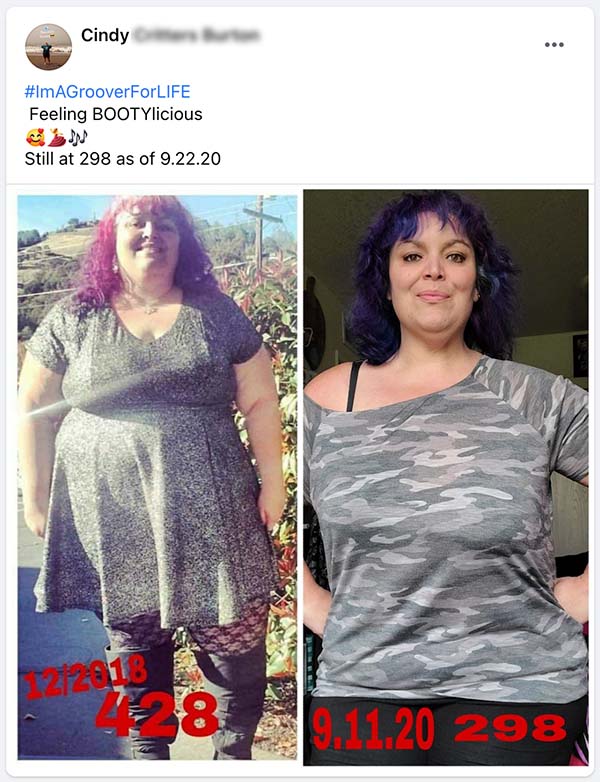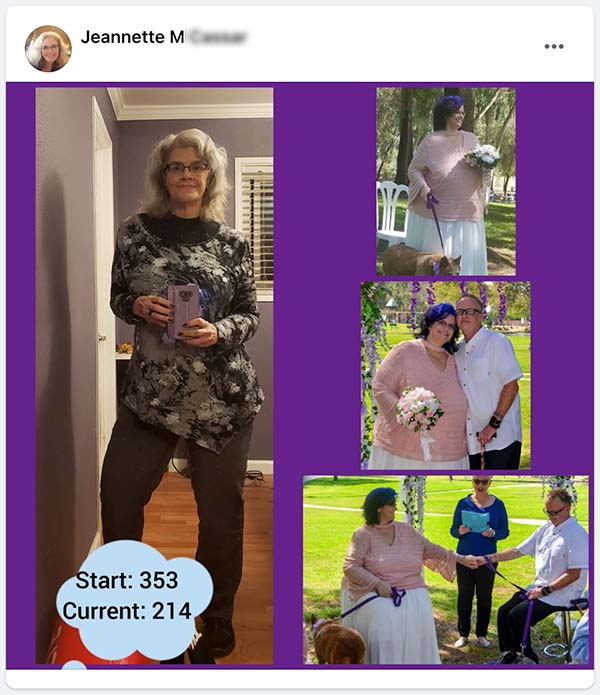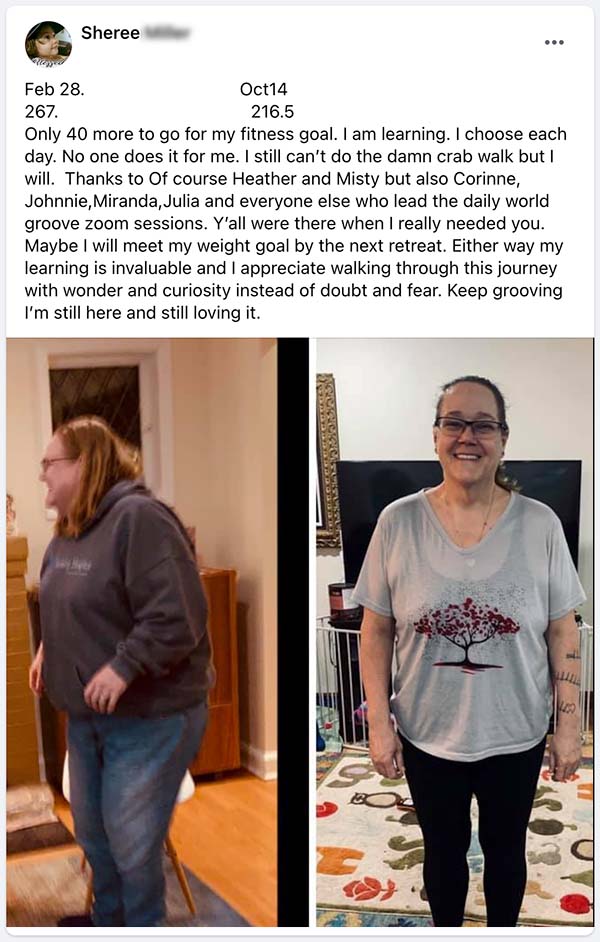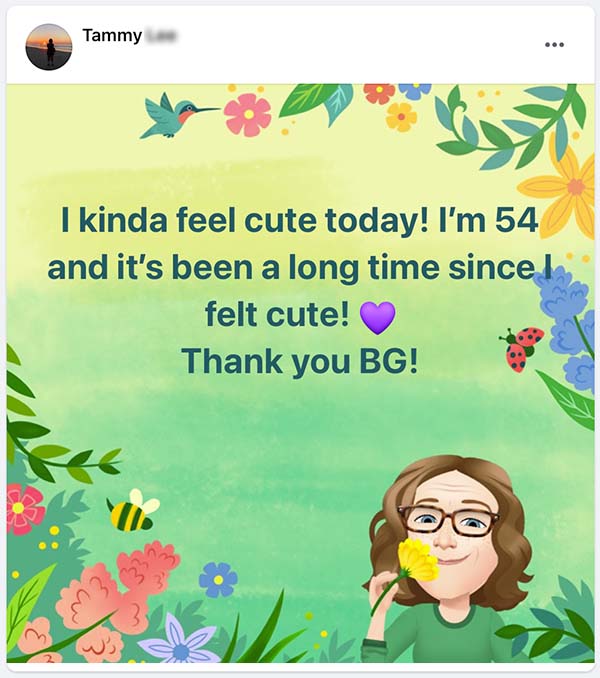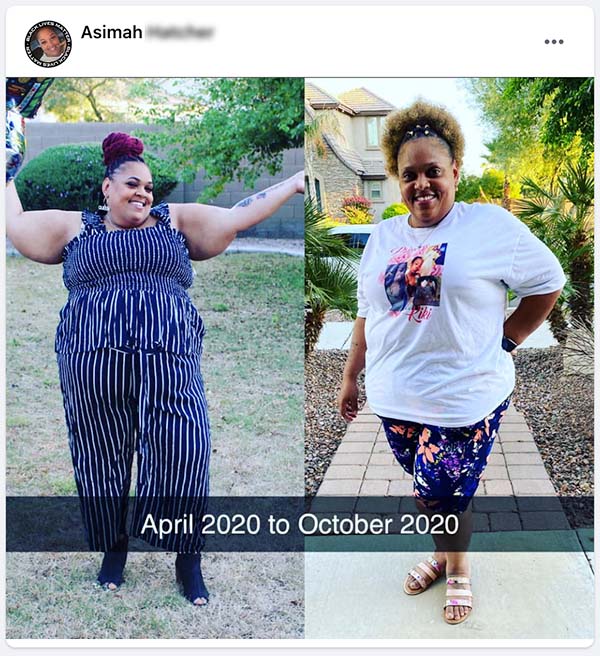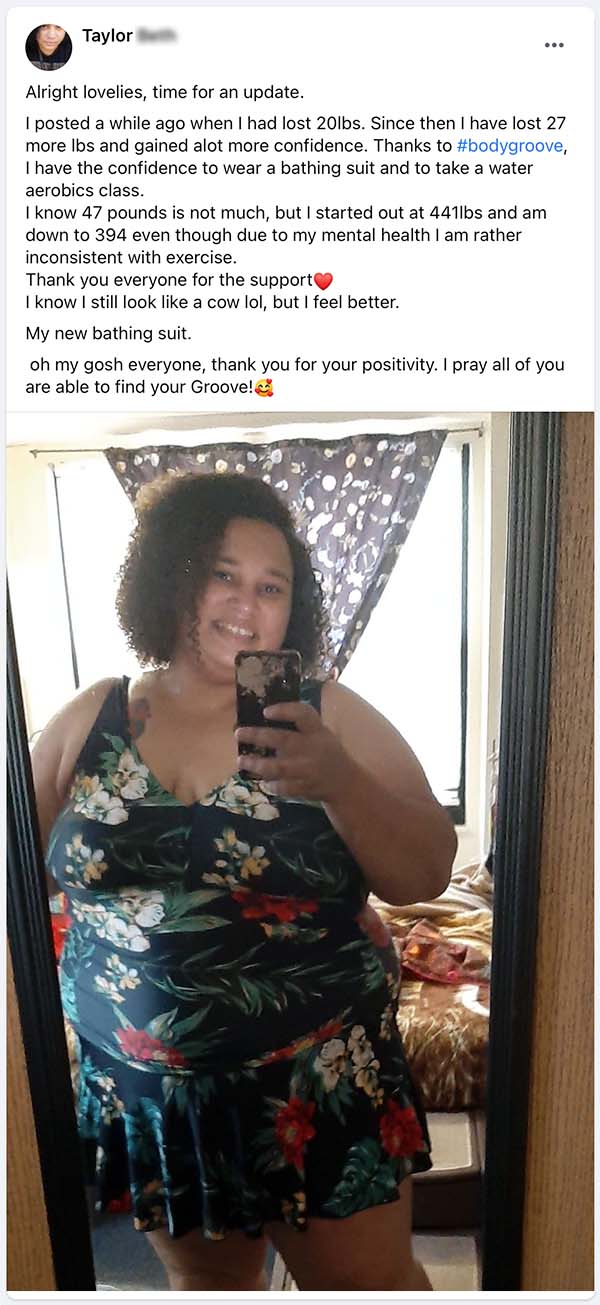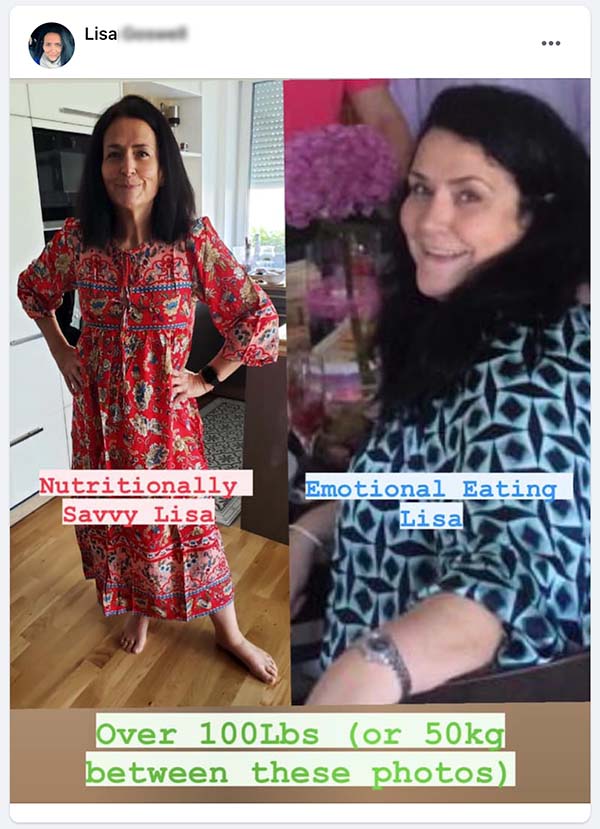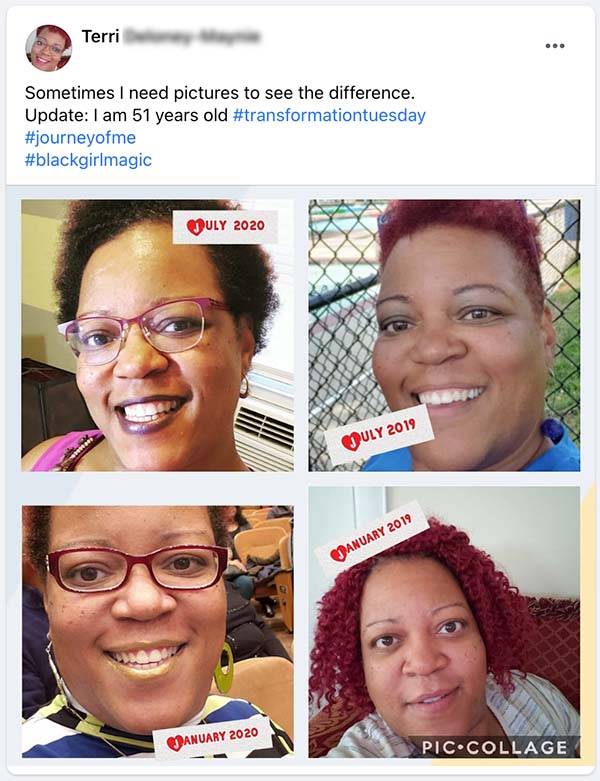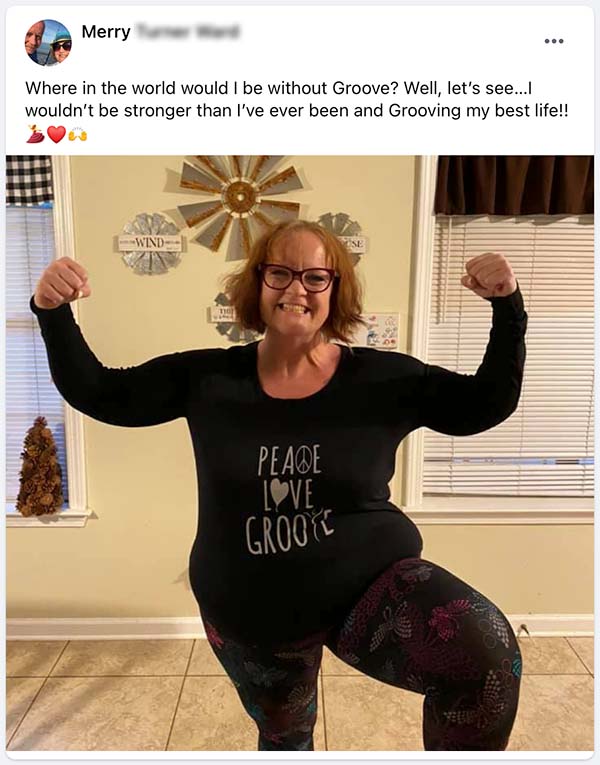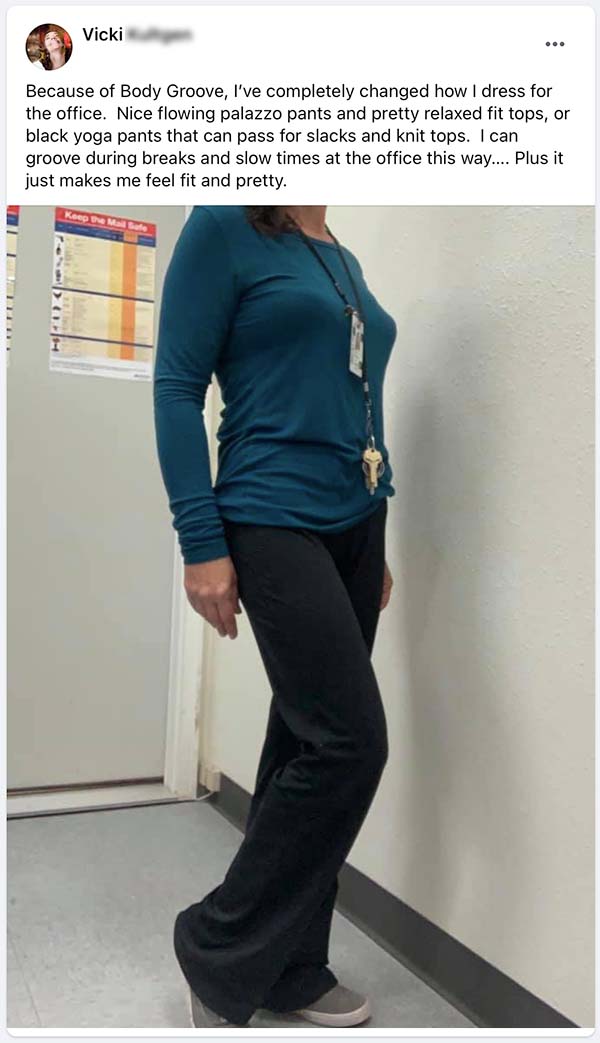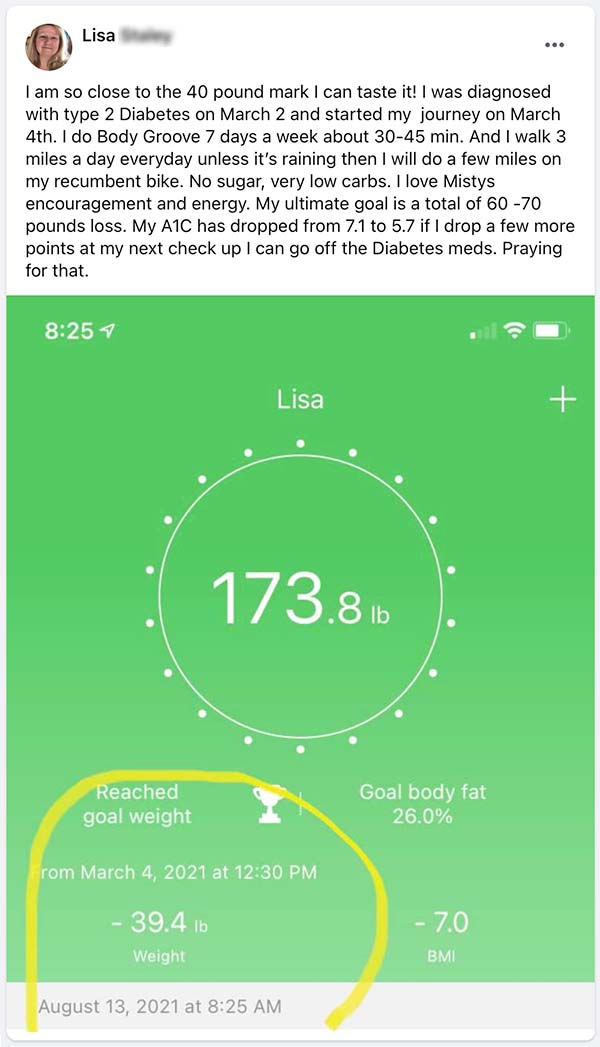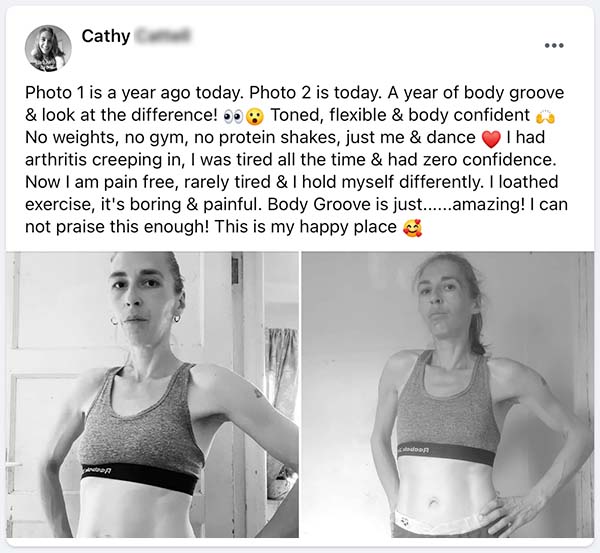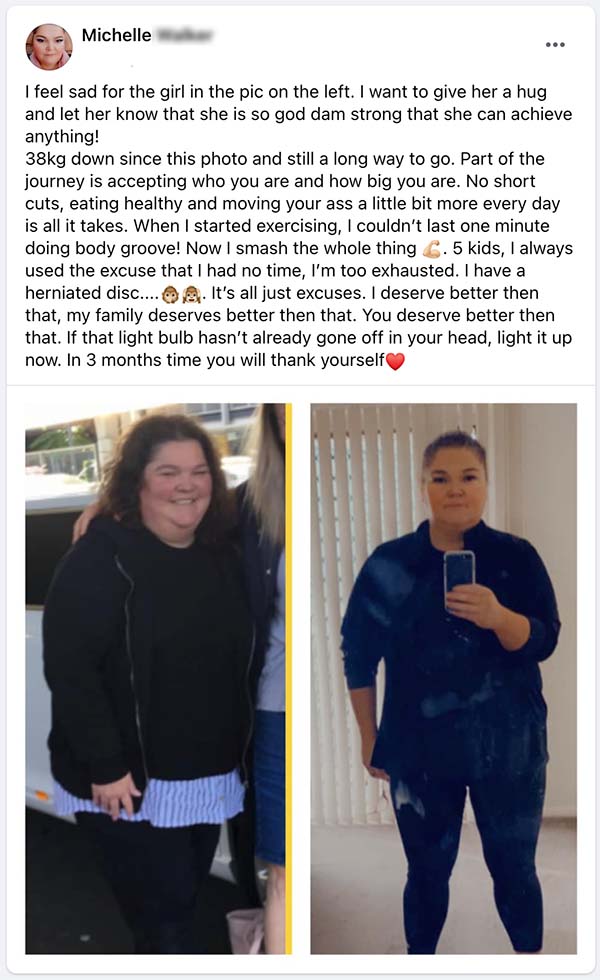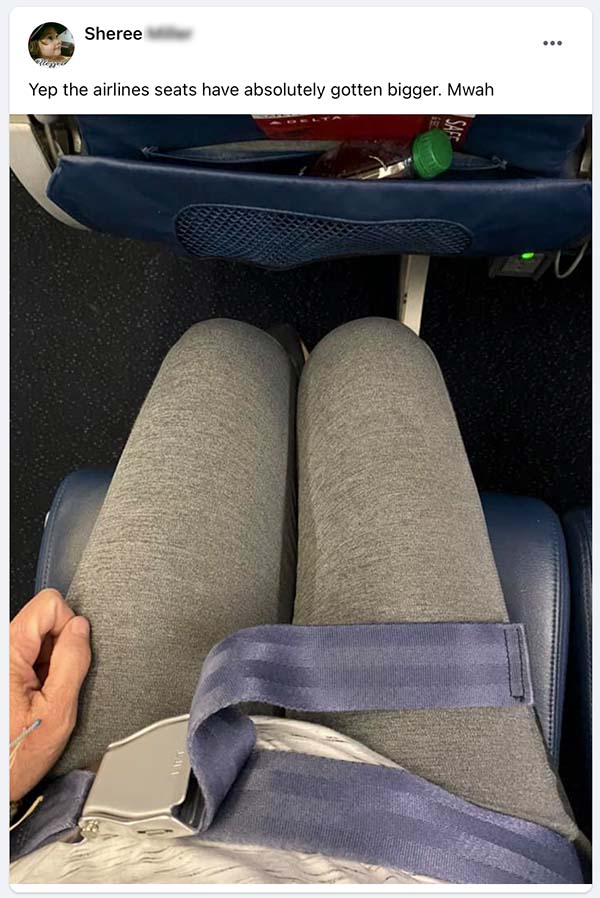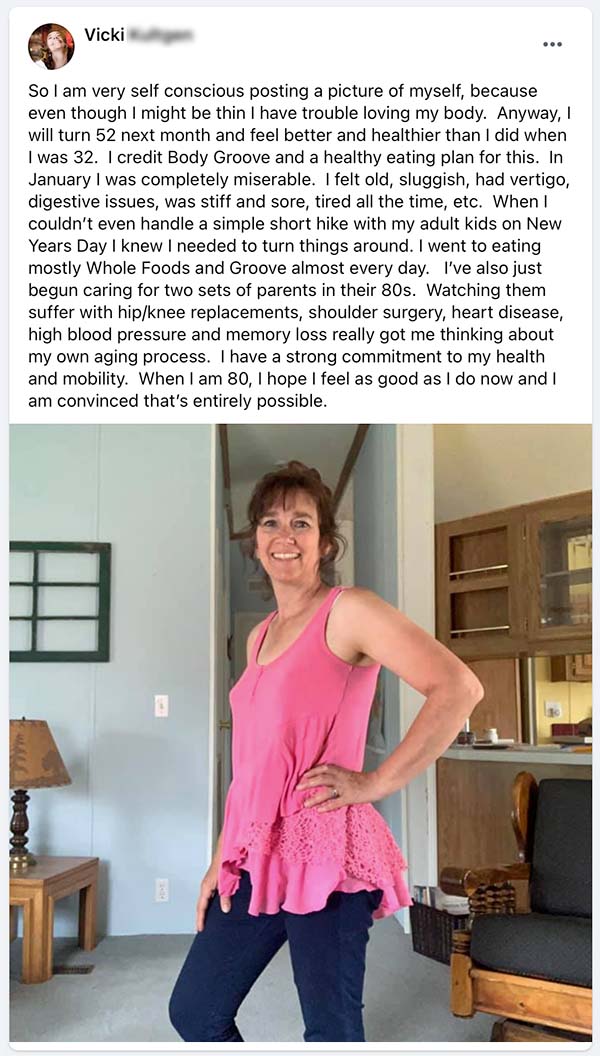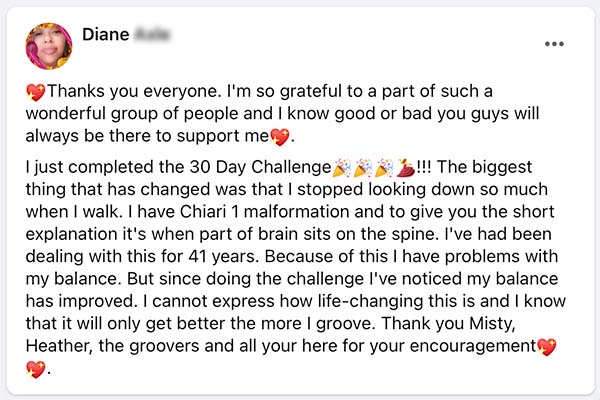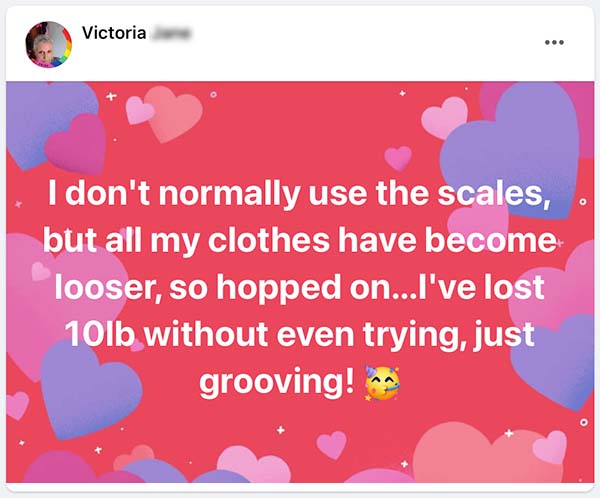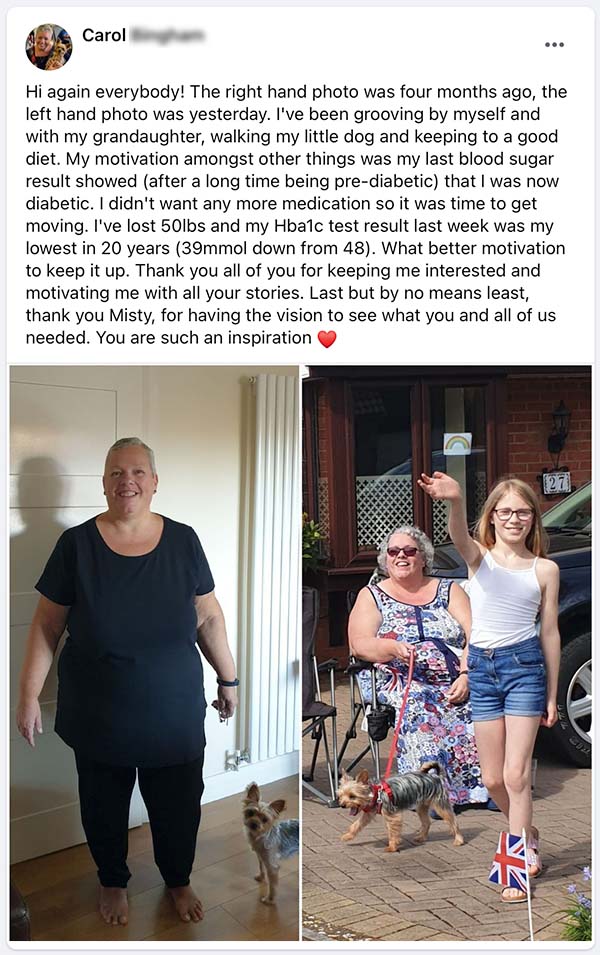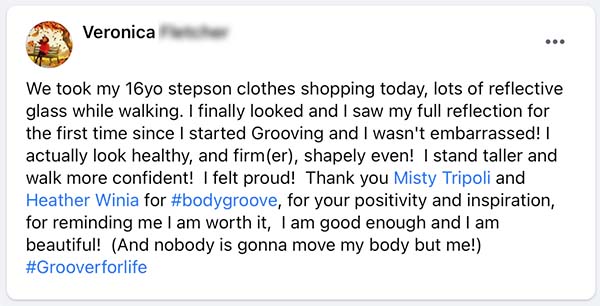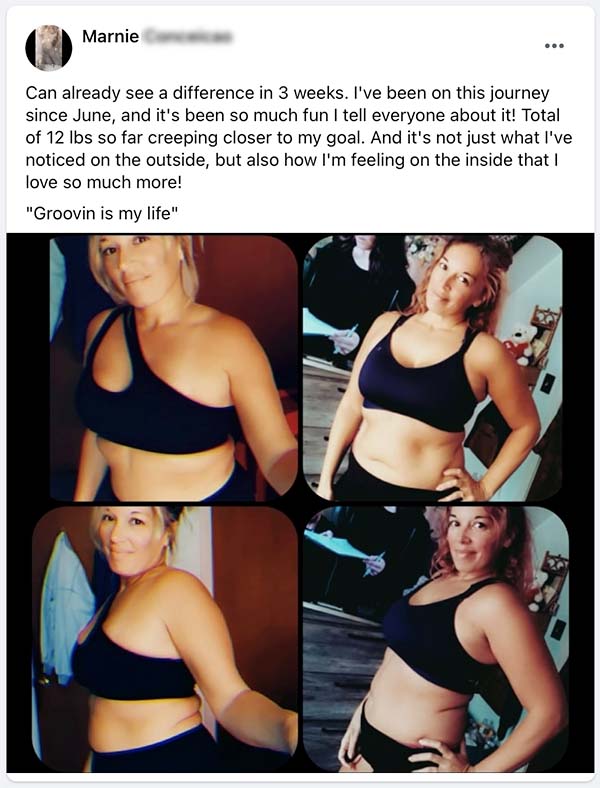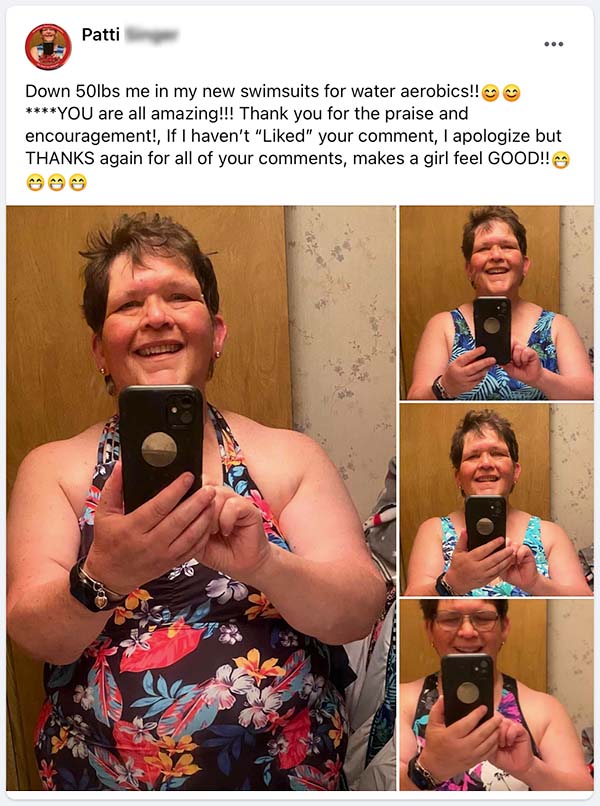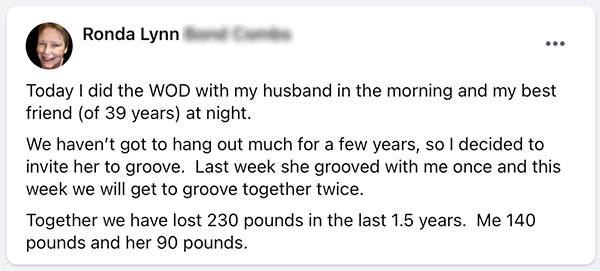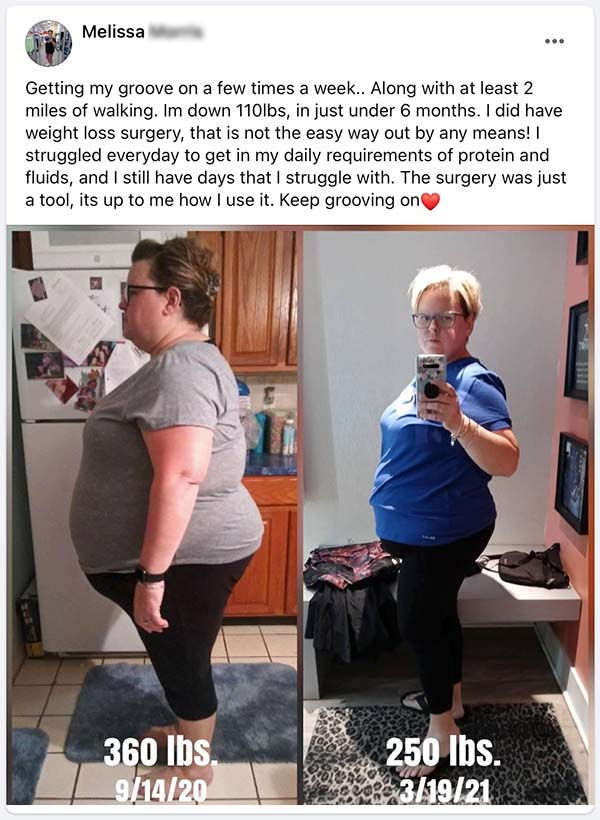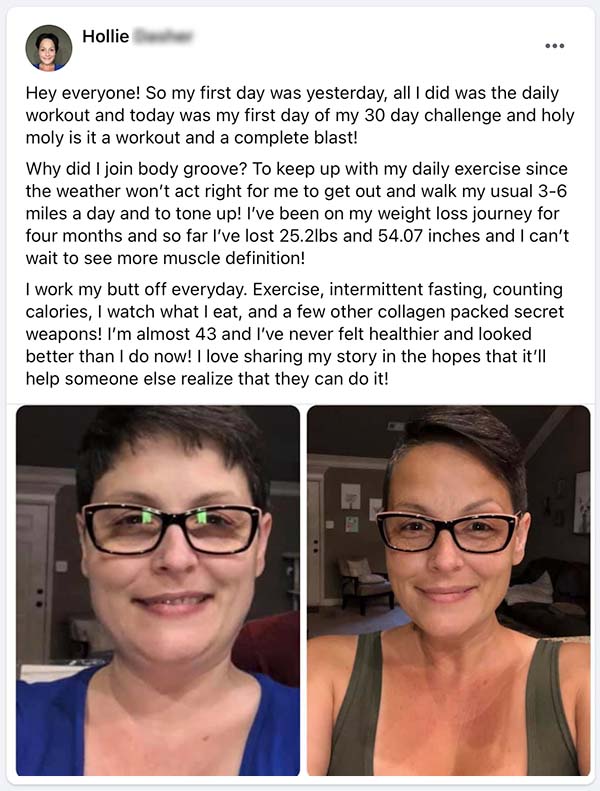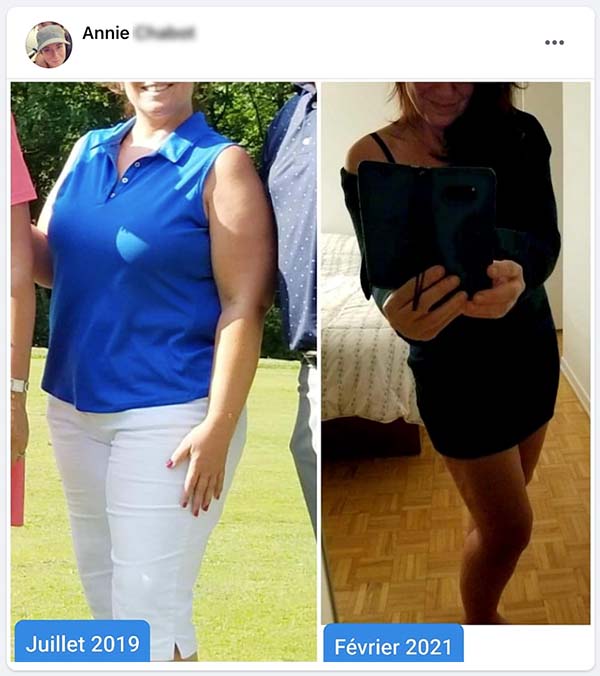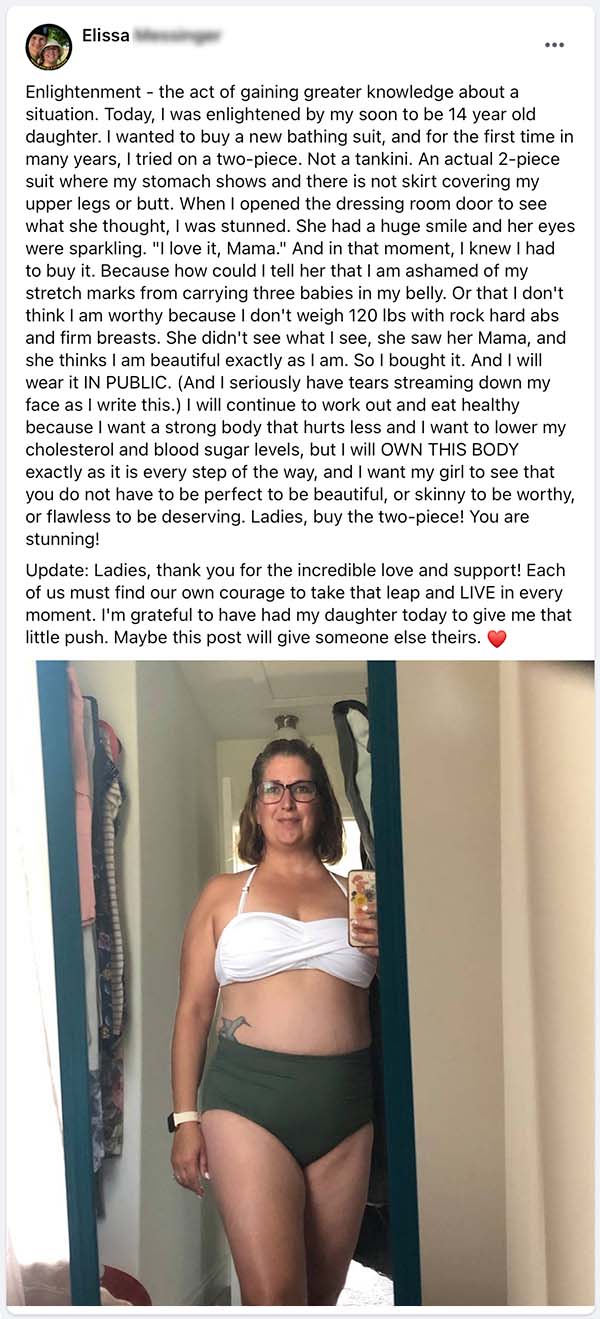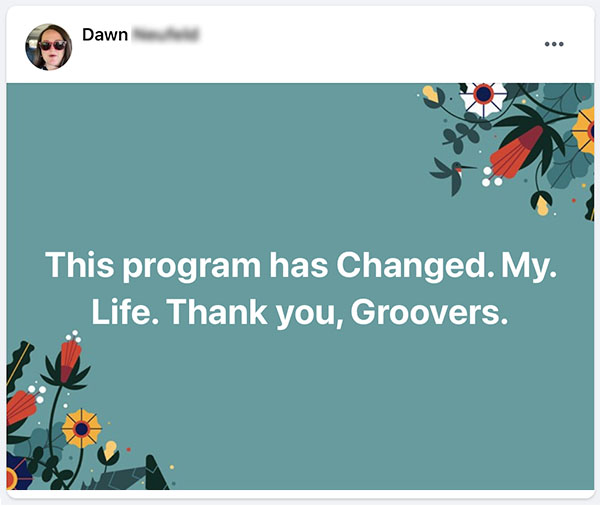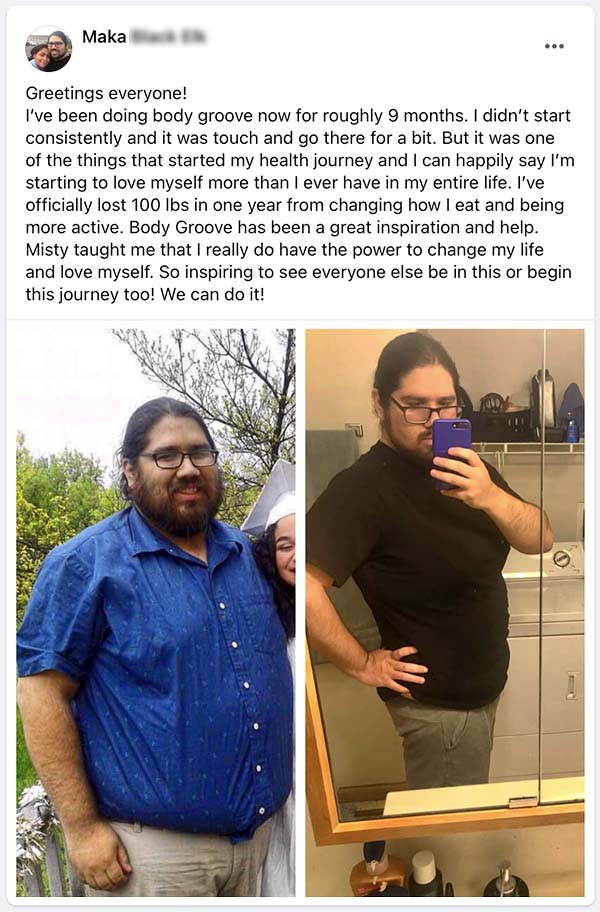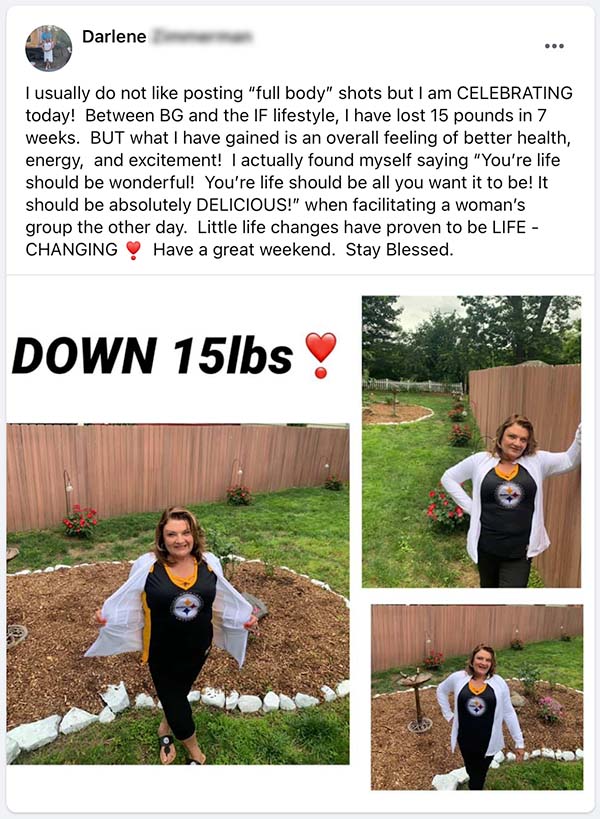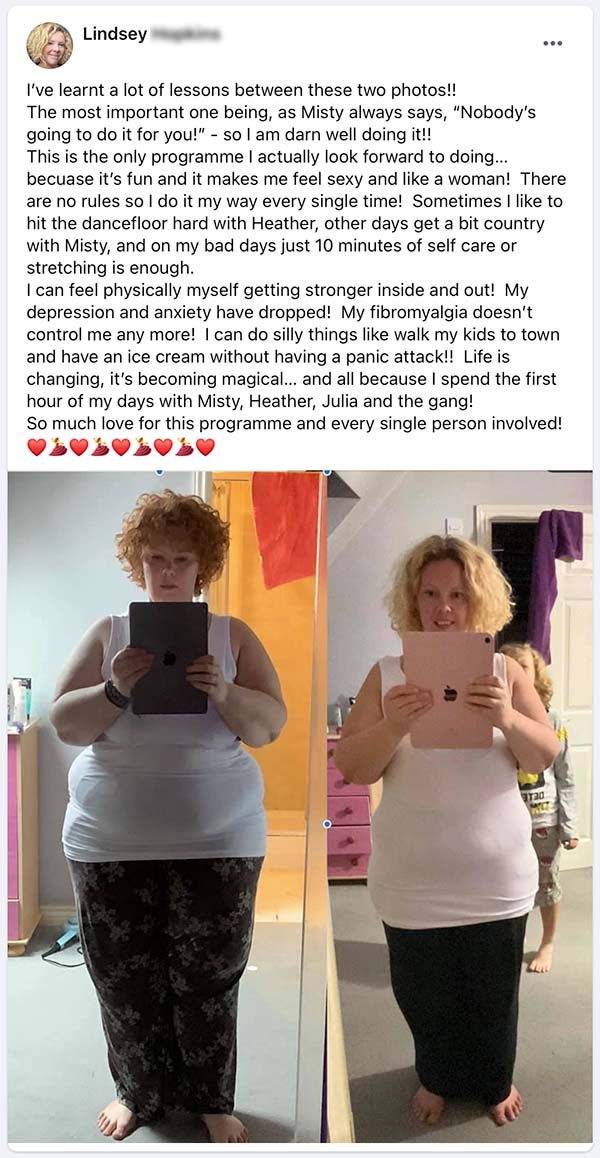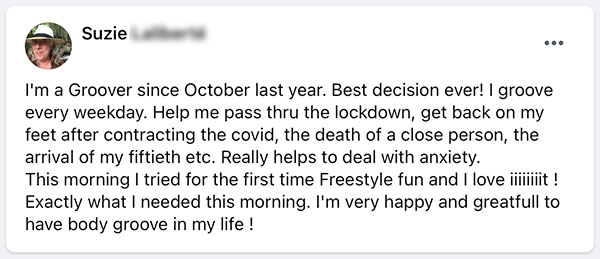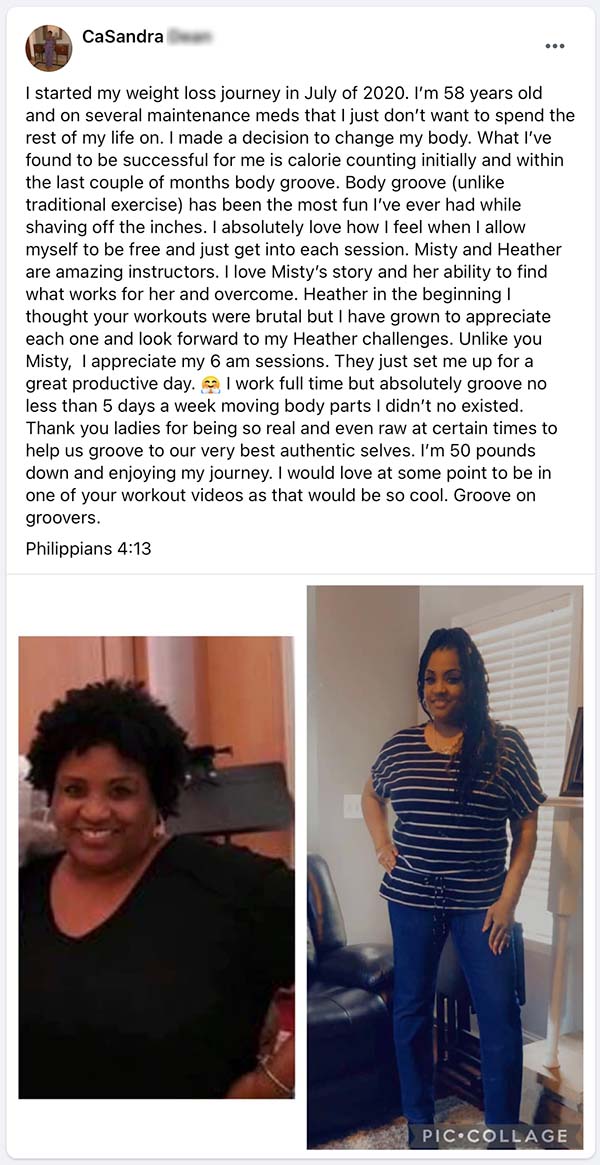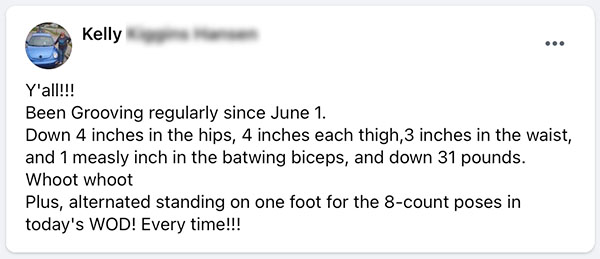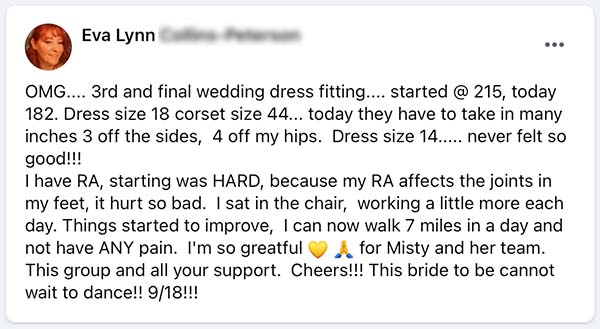 Your body is unique and wonderful, and the results you experience with any exercise program will be unique. Healthy weight management generally requires both appropriate activity and proper diet. Consult your physician or health care provider and follow all safety guidance before beginning any exercise program or nutrition plan, especially if you are pregnant, breastfeeding, have any medical condition, or are taking any medication. The contents on our website, social media pages and DVDs are for informational purposes only, and are not intended to diagnose any medical condition, replace the advice of a healthcare professional, or provide any medical advice, diagnosis, or treatment. Body Groove helps with weight loss when used in combination with healthy eating, and your results will vary depending on starting point, duration, and other factors.
Copyright © 2021 Body Groove | help@bodygroove.com | 26895 Aliso Creek Road, #B501, Aliso Viejo, CA 92656