FINALLY! A fitness program that EVERYONE can do... and experience INCREDIBLE RESULTS.
Thousands of 5 Star Reviews
⭐️⭐️⭐️⭐️⭐️
Click here for sound
Click here to turn sound off
Join over 742,883 women who love Body Groove.
7 reasons you'll LOVE Body Groove
...with your computer, TV or other streaming device like Apple TV, Roku, Firestick, etc… So you'll never have to fight another crowded gym full of judgemental people.
---
...to choose from so you'll NEVER GET BORED and you'll stick with working out and be able to experience the long lasting effects of exercise for your mind and body.
---
...which can prevent injury, promote creativity, and maximize the effectiveness of your workout. In each routine, we show you a move or two and then teach you how to dance it your own way… In a way that's perfect for your body.
---
...because you don't follow the leader. So even if you have two left feet you'll still be able to get your groove on and get a great workout.
---
...and your body right now… which means you'll feel sexier and more confident.
---
...by giving you a fresh workout each day, which saves you time and energy so you can get more done throughout your day.
---
...and when you're having fun, you're more likely to keep doing something… which means YOU WILL achieve your goals and experience the health and wellness you deserve.
Body Groove delivers incredible results!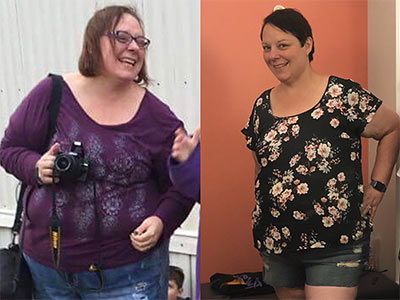 LOST 100 POUNDS
I had tried every diet and exercise program imaginable and given up on myself. But then I stumbled across a Body Groove video on Facebook and I was hooked. And today, I made it to that 100 pound mark in less than 7 months!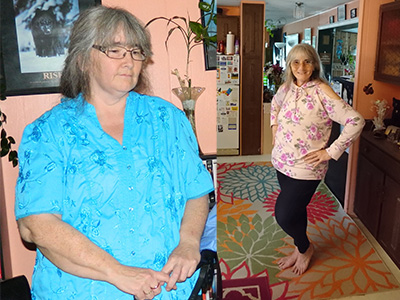 LOST 115 POUNDS
I am addicted to Grooving every day....so much content and so much fun. I am so grateful I found this program and recommend it to anyone who wonders if they should try.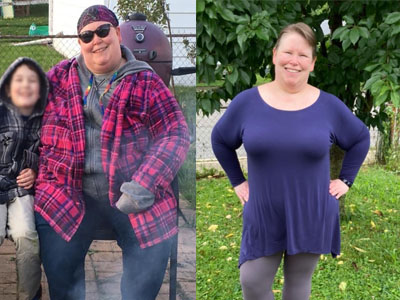 LOST 140 POUNDS
When I first started I had to sit down between segments, catch my breath, and then start the next one. Now I can groove for 45 minutes with no breaks.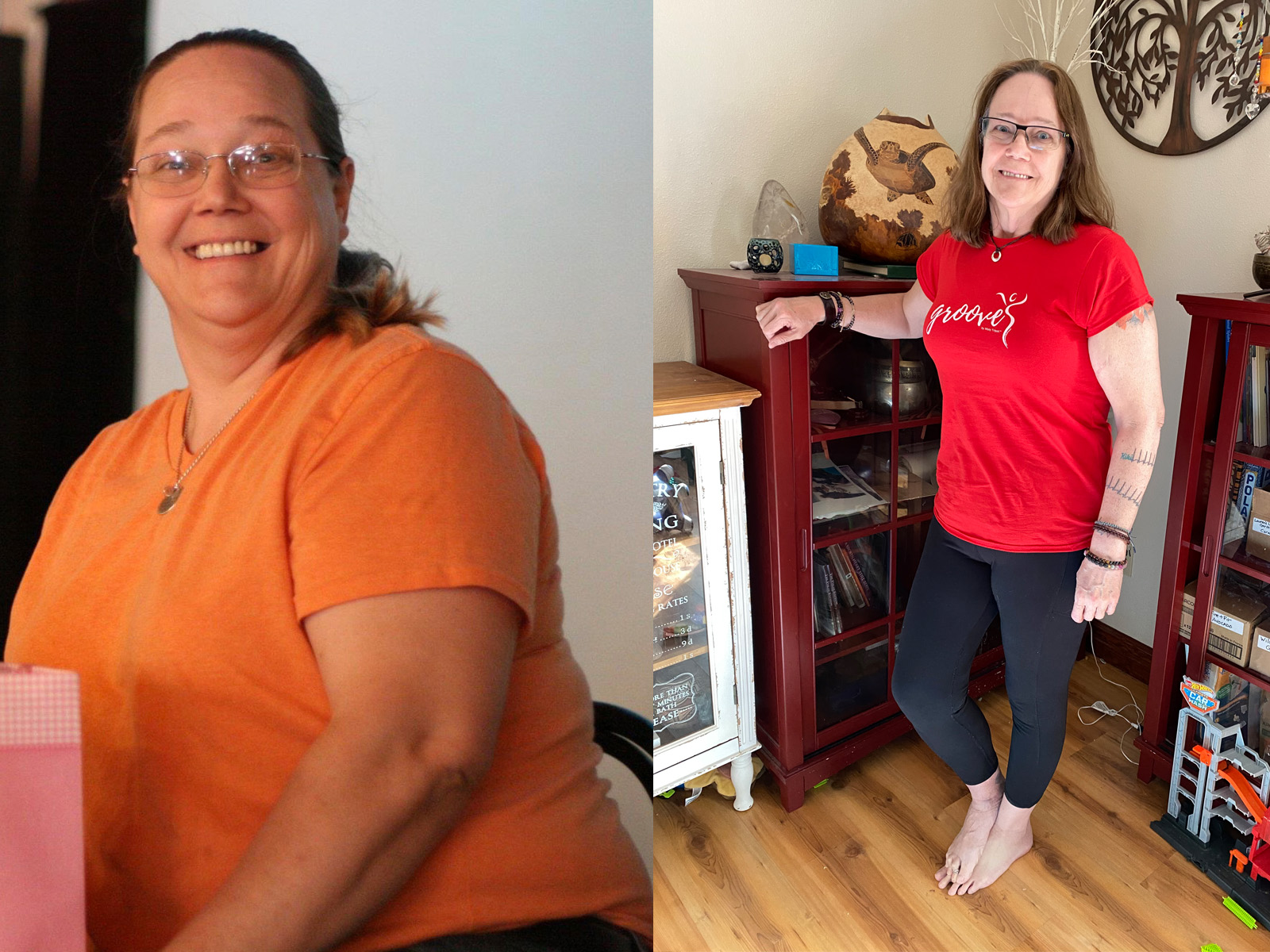 LOST 134 POUNDS
I love that when I first started doing Body GrooveI I did it in a chair… that's all I could do. Body Groove meets you where you're at and helps you progress. After a couple of weeks I was able to get up and move around and now, there's no stopping me.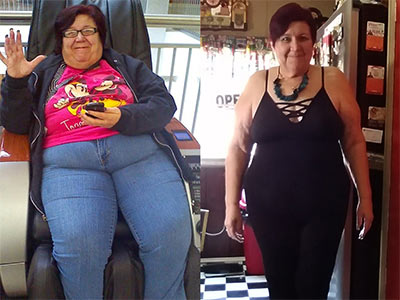 LOST 130 POUNDS
I started out slow sitting in my chair, then more weight started coming off and then I started getting up dancing more than ever. I lost 130 pounds thanks to Misty and Body Groove.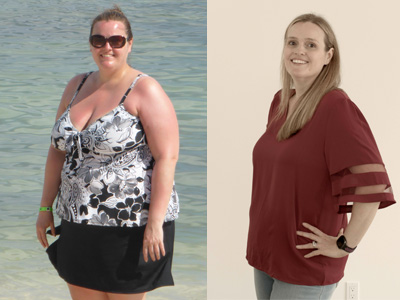 LOST 150 POUNDS
I never thought it was possible to love any kind of exercise… but I love Body Groove, so much. I can't wait to do it every day. It's given me so much confidence and now I feel like I can do anything.
* These results are WITHOUT "impossible to-stick with" diets, or radical changes in lifestyle.
Too often we either put ourselves second to everyone else in our lives, or we don't take care of ourselves in the way that guarantees our health or happiness. That stops today. You are worthy of all of happiness that life has offer. And that's what Body Groove will reinforce to you every single day. You deserve the best because you're worth it. Body Groove helps with weight loss when used in combination with healthy eating, and your results will vary depending on starting point, duration, and other factors.
Body Groove was Created by Health and Fitness Expert, Misty Tripoli.
Click here for sound
Click here to turn sound off
How will a year of Body Groove transform your life?
Body Groove is all about making small, doable changes in your life. That's why so many people love Body Groove and stick with it.
So, we asked a few of our Body Groove customers, who have been with us for at least 1 year, to share how their lives have changed with Body Groove.
Their answers will inspire you and tell the story of why you should try Body Groove too…
"My life will never be the same...I have gained better balance, more confidence and an 'I am worth it' attitude...yes I have lost weight but my feeling I get when I dance is the best thing. I feel free and alive. Thank you Body Groove!"
- Sylvia P.
"I've lost 37 lbs this year, but better than that, I've fallen in love with myself on this groove journey the last several years. I've fallen in love with my quirkiness and I feel comfortable in my own skin. I don't have to love everything about myself but I do genuinely like myself. I'm worth the time and effort every time."
- Nikki E.
"I dance most every day. Exercise has become my routine. Feeling great and looking better."
- Barbara H.
"I have been grooving for a year and a half. I started because a year after abdominal surgery and a stage 4 kidney cancer diagnosis, I knew I needed to find a way to move. I had never been consistent with an exercise program. Now all my doctors know about Body Groove and my oncologists have been pleased with my health. What I have gained is priceless! I am stronger (than I've ever been), more flexible, balanced, grateful, and confident. I say yes to all photo requests, dance down the aisle at the grocery, and proudly proclaim that I am more than my diagnosis. I am thankful to the BG community beyond words. "
- Kim H.
"I now feel completely different about my body and have so much more confidence.. I always remember to walk tall, shoulders back, (as Misty says)... I look forward to grooving and another plus side is the support you get online from other members...I've made new friends too. Thank you Body Groove xx!"
- Wendy R.
"I have found joy in movement. I've learned that I can see results without the 'no pain no gain'. I feel toned and more flexible. This program is definitely one of the best and all inclusive."
- Sandra L.
"More energy, happier, focused more on health than what I eat. I am 70 and I love Body Groove! Also helps with balance."
- Bonnie L.
"Over the past year, I found myself. I'm comfortable in myself now. I gained confidence in the way I look, no longer care what others think. I have better balance and have lost some weight. I love groovin'!!!"
- Tina D.
"It helped me see that exercise can come in any form! I've always loved to dance and Groove gives you the freedom of movement to do your own thing and be creative with your body! It's so fun and yet so good for you at the same time! I always feel better about myself after I Groove and ALL of the Groove facilitators do a wonderful job making you feel so good about YOU, no matter your size! "
- Mandy S.
Just imagine what you'll say in YOUR Body Groove review 1 year from today!
We want you to experience the confidence and wellness that comes from joining the Body Groove community.
That's why we're offering a special discount on our Body Groove yearly membership.
Just like these women, and tens of thousands more, you can experience the life changing results of Body Groove.
You will have more energy, flexibility, balance, confidence, and so much more… And, perhaps most importantly… You will learn to truly love yourself.
Body Groove gives you unlimited access to hundreds of workouts, workshops, meditations, and more. It's everything you need.
Normally, our Body Groove On-Demand membership is $199 a year.
But during our Summer Sale we're offering a special discount...
If you join us now, it's only $59 a year.
That's less than $5 a month!
Your $59 yearly pricing will NEVER go up, and you'll still get all of the NEW releases and future content.
Why...?
Because you are worth it!
All prices USD. Yearly renewal until cancelled. Read our privacy policy.
Your membership gives you access to the entire library of 600+ Body Groove workouts on your computer, smartphone, and all our apps.
Your body is unique and wonderful, and the results you experience with any exercise program will be unique. Healthy weight management generally requires both appropriate activity and proper diet. Consult your physician or health care provider and follow all safety guidance before beginning any exercise program or nutrition plan, especially if you are pregnant, breastfeeding, have any medical condition, or are taking any medication. The contents on our website, social media pages and DVDs are for informational purposes only, and are not intended to diagnose any medical condition, replace the advice of a healthcare professional, or provide any medical advice, diagnosis, or treatment. Body Groove helps with weight loss when used in combination with healthy eating, and your results will vary depending on starting point, duration, and other factors.
Copyright © 2023 Body Groove | help@bodygroove.com | 26895 Aliso Creek Road, #B501, Aliso Viejo, CA 92656